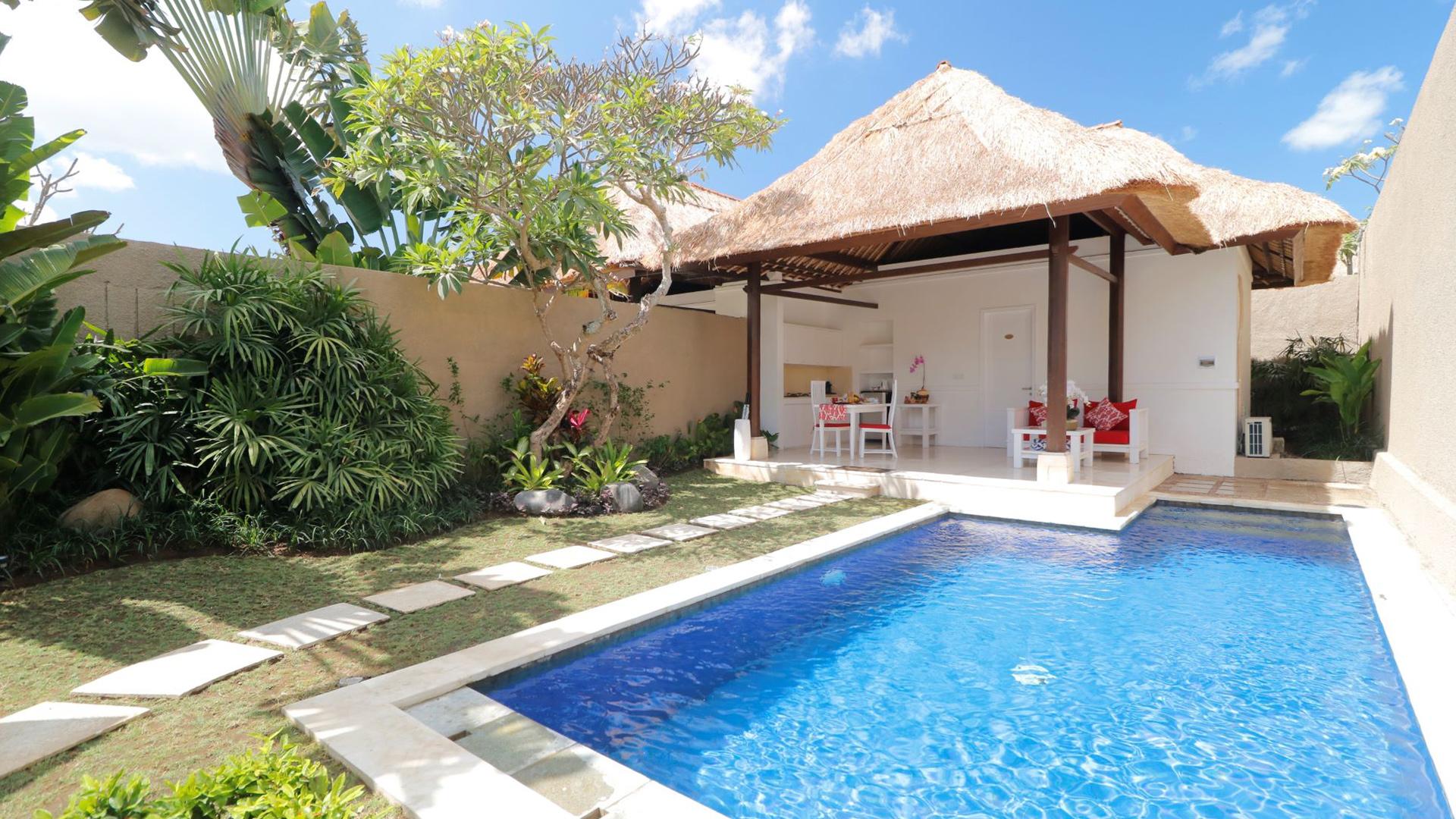 Private Pool Villa Escape with Daily Dining and Drinks
Escape to one of Bali's most popular holiday spots with an enormous private villa escape in the heart of Seminyak at Alam Boutique Resort. You'll experience a secluded tropical hideaway in a massive One-Bedroom Villa complete with a private pool - located within easy walking distance to trendy bars, restaurants and the fantastic attractions of Seminyak. Includes daily a la carte breakfast, daily two-course lunch or dinner, a daily cocktail each, daily afternoon tea, a 60-minute massage each and private return airport transfers.
5, 7 or 10 Nights From
Valued up to A$3,075

Book now. Pay Later.
holiday Options
PRIVATE VILLA ESCAPE
One Bedroom Pool Villa
Inclusion highlights:
Inclusions valid for two people
Daily a la carte breakfast at Tuk Tuk Bali Restaurant
Your choice of daily two-course lunch or dinner
Daily cocktail each at Tuk Tuk Bali Restaurant
Daily afternoon tea with a variety of sweet and savoury snacks
Private return airport transfers
60-minute massage each at the blissful Alam Spa
Late 6pm checkout (subject to availability)
Check-in: 2pm
FAMILY UPGRADE
Two Bedroom Pool Villa
Inclusion highlights:
Inclusions valid for four people
Daily a la carte breakfast at Tuk Tuk Bali Restaurant
Your choice of daily two-course lunch or dinner
Daily cocktail each at Tuk Tuk Bali Restaurant
Daily afternoon tea with a variety of sweet and savoury snacks
Private return airport transfers
60-minute massage each at the blissful Alam Spa
Late 6pm checkout (subject to availability)
Check-in: 2pm
GROUP UPGRADE
Three Bedroom Pool Villa
Inclusion highlights:
Inclusions valid for six people
Daily a la carte breakfast at Tuk Tuk Bali Restaurant
Your choice of daily two-course lunch or dinner
Daily cocktail each at Tuk Tuk Bali Restaurant
Daily afternoon tea with a variety of sweet and savoury snacks
Private return airport transfers
60-minute massage each at the blissful Alam Spa
Late 6pm checkout (subject to availability)
Check-in: 2pm
PRIVATE VILLA ESCAPE
One Bedroom Pool Villa
Inclusion highlights:
Inclusions valid for two people
Daily a la carte breakfast at Tuk Tuk Bali Restaurant
Your choice of daily two-course lunch or dinner
Daily cocktail each at Tuk Tuk Bali Restaurant
Daily afternoon tea with a variety of sweet and savoury snacks
Private return airport transfers
60-minute massage each at the blissful Alam Spa
Late 6pm checkout (subject to availability)
Check-in: 2pm
FAMILY UPGRADE
Two Bedroom Pool Villa
Inclusion highlights:
Inclusions valid for four people
Daily a la carte breakfast at Tuk Tuk Bali Restaurant
Your choice of daily two-course lunch or dinner
Daily cocktail each at Tuk Tuk Bali Restaurant
Daily afternoon tea with a variety of sweet and savoury snacks
Private return airport transfers
60-minute massage each at the blissful Alam Spa
Late 6pm checkout (subject to availability)
Check-in: 2pm
GROUP UPGRADE
Three Bedroom Pool Villa
Inclusion highlights:
Inclusions valid for six people
Daily a la carte breakfast at Tuk Tuk Bali Restaurant
Your choice of daily two-course lunch or dinner
Daily cocktail each at Tuk Tuk Bali Restaurant
Daily afternoon tea with a variety of sweet and savoury snacks
Private return airport transfers
60-minute massage each at the blissful Alam Spa
Late 6pm checkout (subject to availability)
Check-in: 2pm
PRIVATE VILLA ESCAPE
One Bedroom Pool Villa
Inclusion highlights:
Inclusions valid for two people
Daily a la carte breakfast at Tuk Tuk Bali Restaurant
Your choice of daily two-course lunch or dinner
Daily cocktail each at Tuk Tuk Bali Restaurant
Daily afternoon tea with a variety of sweet and savoury snacks
Private return airport transfers
60-minute massage each at the blissful Alam Spa
Late 6pm checkout (subject to availability)
Check-in: 2pm
FAMILY UPGRADE
Two Bedroom Pool Villa
Inclusion highlights:
Inclusions valid for four people
Daily a la carte breakfast at Tuk Tuk Bali Restaurant
Your choice of daily two-course lunch or dinner
Daily cocktail each at Tuk Tuk Bali Restaurant
Daily afternoon tea with a variety of sweet and savoury snacks
Private return airport transfers
60-minute massage each at the blissful Alam Spa
Late 6pm checkout (subject to availability)
Check-in: 2pm
GROUP UPGRADE
Three Bedroom Pool Villa
Inclusion highlights:
Inclusions valid for six people
Daily a la carte breakfast at Tuk Tuk Bali Restaurant
Your choice of daily two-course lunch or dinner
Daily cocktail each at Tuk Tuk Bali Restaurant
Daily afternoon tea with a variety of sweet and savoury snacks
Private return airport transfers
60-minute massage each at the blissful Alam Spa
Late 6pm checkout (subject to availability)
Check-in: 2pm