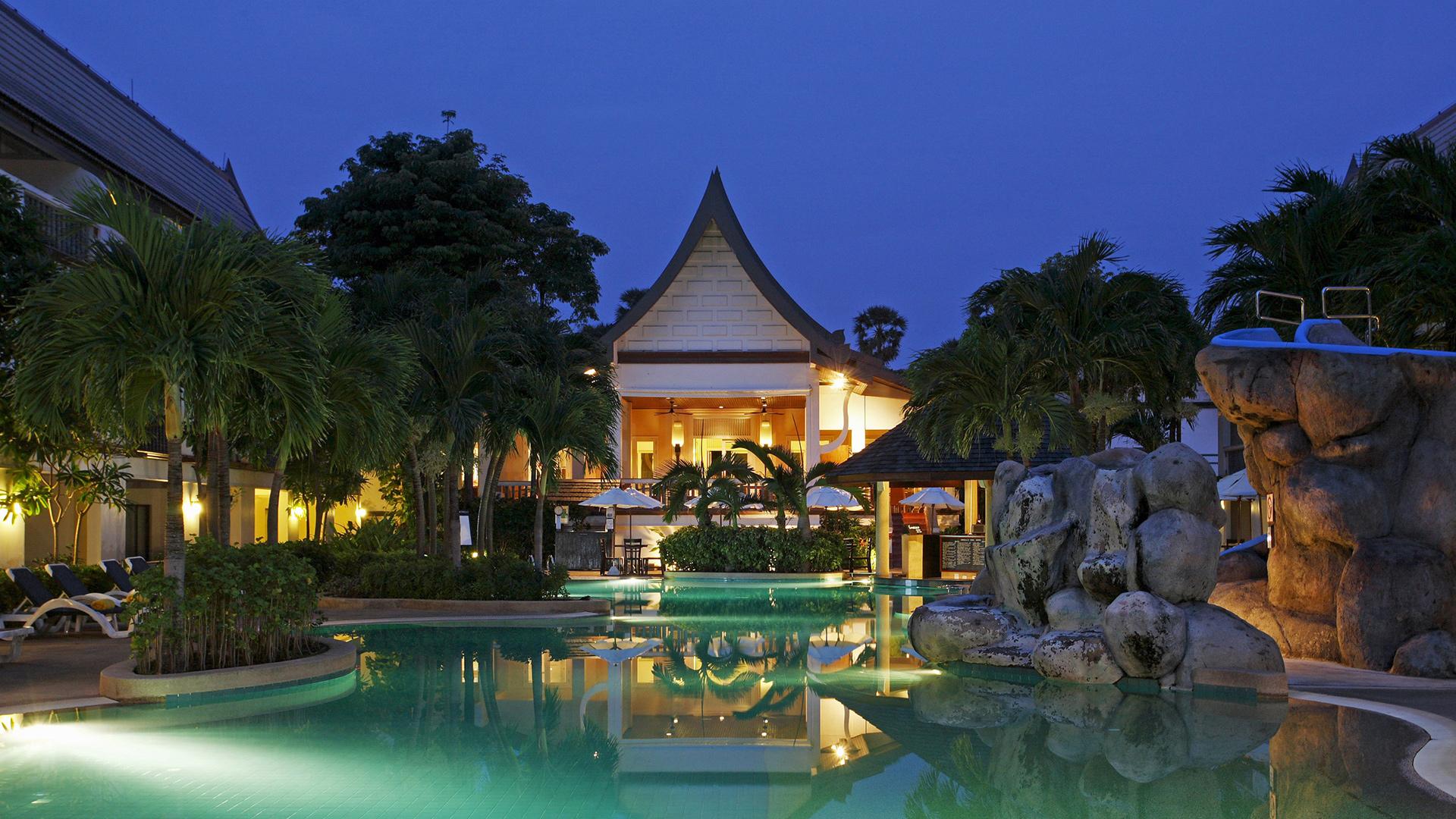 One of Our Best Value Tropical Thai Getaways Just Moments from the Beach
Escape to Thailand's bustling Phuket and stay just 600 metres from the white sand of Kata Beach and in the heart of town. Ideal for both couples and families, enjoy a 'flop and drop' holiday with select dining specialties, and one hour of free-flow local cocktails and other alcoholic drinks at the pool bar. Plus, indulge in daily buffet breakfast and an option of family upgrades that have children staying free and eating free when dining with parents.
8, 10 or 12 Nights From
Valued up to A$2,177

Book now. Pay Later.
holiday Options
TROPICAL GETAWAY
Deluxe Room
Inclusion highlights:
Inclusions valid for two people
Your choice of three set-menu, three-course lunches or dinners at Seasons Restaurant or Waves Restaurant & Pool Bar
Daily buffet breakfast at Seasons Restaurant
One hour of free-flow local cocktails, beers and wines at Emerald Pool Bar during your stay
FAMILY UPGRADE
Family Deluxe Room
Inclusion highlights:
Inclusions valid for two adults and two children
Your choice of three set-menu, three-course lunches or dinners at Seasons Restaurant or Waves Restaurant & Pool Bar
Daily buffet breakfast at Seasons Restaurant
One hour of free-flow local cocktails, beers and wines at Emerald Pool Bar during your stay
SUITE UPGRADE
One Bedroom Family Suite
Inclusion highlights:
Inclusions valid for two adults and two children
Your choice of three set-menu, three-course lunches or dinners at Seasons Restaurant or Waves Restaurant & Pool Bar
Daily buffet breakfast at Seasons Restaurant
One hour of free-flow local cocktails, beers and wines at Emerald Pool Bar during your stay
TROPICAL GETAWAY
Deluxe Room
Inclusion highlights:
Inclusions valid for two people
Your choice of four set-menu, three-course lunches or dinners at Seasons Restaurant or Waves Restaurant & Pool Bar
Two x one hour of free-flow local cocktails, beers and wines at Emerald Pool Bar during your stay
Daily buffet breakfast at Seasons Restaurant
FAMILY UPGRADE
Family Deluxe Room
Inclusion highlights:
Inclusions valid for two adults and two children
Your choice of four set-menu, three-course lunches or dinners at Seasons Restaurant or Waves Restaurant & Pool Bar
Two x one hour of free-flow local cocktails, beers and wines at Emerald Pool Bar during your stay
Daily buffet breakfast at Seasons Restaurant
SUITE UPGRADE
One Bedroom Family Suite
Inclusion highlights:
Inclusions valid for two adults and two children
Your choice of four set-menu, three-course lunches or dinners at Seasons Restaurant or Waves Restaurant & Pool Bar
Two x one hour of free-flow local cocktails, beers and wines at Emerald Pool Bar during your stay
Daily buffet breakfast at Seasons Restaurant
TROPICAL GETAWAY
Deluxe Room
Inclusion highlights:
Inclusions valid for two people
Your choice of five set-menu, three-course lunches or dinners at Seasons Restaurant or Waves Restaurant & Pool Bar
Two x one hour of free-flow local cocktails, beers and wines at Emerald Pool Bar during your stay
Daily buffet breakfast at Seasons Restaurant
FAMILY UPGRADE
Family Deluxe Room
Inclusion highlights:
Inclusions valid for two adults and two children
Your choice of five set-menu, three-course lunches or dinners at Seasons Restaurant or Waves Restaurant & Pool Bar
Two x one hour of free-flow local cocktails, beers and wines at Emerald Pool Bar during your stay
Daily buffet breakfast at Seasons Restaurant
SUITE UPGRADE
One Bedroom Family Suite
Inclusion highlights:
Inclusions valid for two adults and two children
Your choice of five set-menu, three-course lunches or dinners at Seasons Restaurant or Waves Restaurant & Pool Bar
Two x one hour of free-flow local cocktails, beers and wines at Emerald Pool Bar during your stay
Daily buffet breakfast at Seasons Restaurant