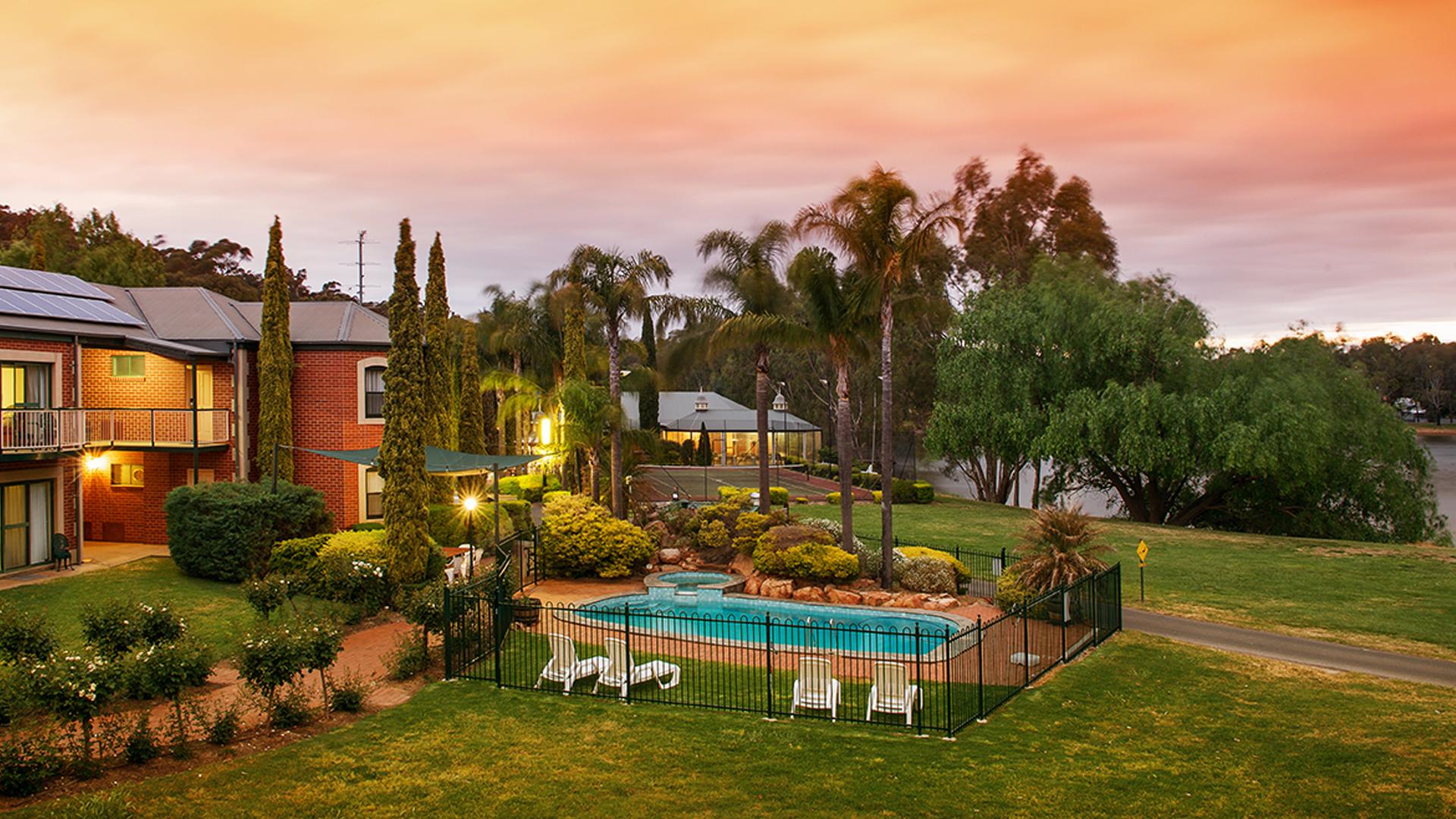 Romantic Escape in Clare Valley Wine Country
Discover one of South Australia's premium wine regions with a romantic break just two hours' drive from Adelaide. Surrounded by beautiful countryside and over 30 wineries and cellar doors, unwind with a charming Clare Valley escape and enjoy daily continental breakfast, a welcome bottle of premium local wine, green fees for the neighbouring golf club and guaranteed 12pm late checkout.
2, 3 or 5 Nights From
Valued up to A$503

Book now. Pay Later.
holiday Options
ROMANTIC WINE COUNTRY ESCAPE
Superior Spa Room
Inclusion highlights:
Inclusions valid for two adults
Daily continental breakfast at Conners Restaurant
Welcome bottle of premium Clare Valley wine
Green fees for nine holes at the neighbouring Clare Golf Club
Guaranteed upgrade from an Executive Room to a Superior Spa Room
Guaranteed late 12pm checkout
Check-in: 2pm
TWO-BEDROOM UPGRADE
Two Bedroom Apartment
Inclusion highlights:
Inclusions valid for two adults
Daily continental breakfast at Conners Restaurant
Welcome bottle of premium Clare Valley wine
Green fees for nine holes at the neighbouring Clare Golf Club
Guaranteed late 12pm checkout
Check-in: 2pm
ROMANTIC WINE COUNTRY ESCAPE
Superior Spa Room
Inclusion highlights:
Inclusions valid for two adults
Daily continental breakfast at Conners Restaurant
Welcome bottle of premium Clare Valley wine
Green fees for nine holes at the neighbouring Clare Golf Club
Guaranteed upgrade from an Executive Room to a Superior Spa Room
Guaranteed late 12pm checkout
Check-in: 2pm
TWO-BEDROOM UPGRADE
Two Bedroom Apartment
Inclusion highlights:
Inclusions valid for two adults
Daily continental breakfast at Conners Restaurant
Welcome bottle of premium Clare Valley wine
Green fees for nine holes at the neighbouring Clare Golf Club
Guaranteed late 12pm checkout
Check-in: 2pm
ROMANTIC WINE COUNTRY ESCAPE
Superior Spa Room
Inclusion highlights:
Inclusions valid for two adults
Daily continental breakfast at Conners Restaurant
Welcome bottle of premium Clare Valley wine
Green fees for nine holes at the neighbouring Clare Golf Club
Guaranteed upgrade from an Executive Room to a Superior Spa Room
Guaranteed late 12pm checkout
Check-in: 2pm
TWO-BEDROOM UPGRADE
Two Bedroom Apartment
Inclusion highlights:
Inclusions valid for two adults
Daily continental breakfast at Conners Restaurant
Welcome bottle of premium Clare Valley wine
Green fees for nine holes at the neighbouring Clare Golf Club
Guaranteed late 12pm checkout
Check-in: 2pm