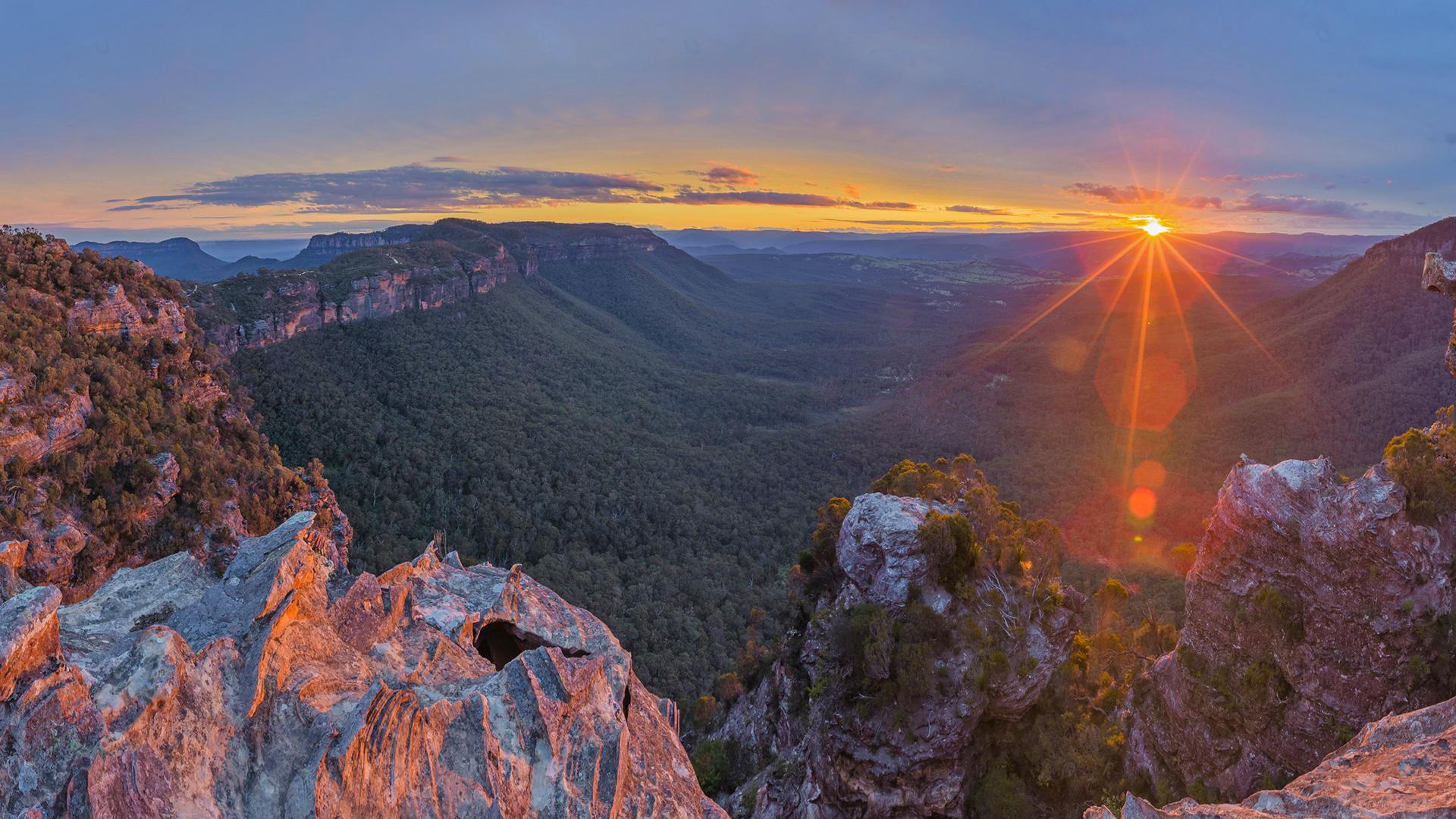 Blue Mountains Hiking: Two-day Ruined Castle or Four-Day Kanangra to Katoomba
Set off on a memorable hiking adventure in the stunning scenery of NSW's Blue Mountains. Escape the city and reconnect with nature as you embark on one of these two, iconic walks: conquer landmarks such as the Ruined Castle on a two-day hike (moderate grade) or immerse yourself deep within the Kanangra-Boyd National park for a four-day hike from Kanangra to Katoomba (extreme grade). Each package includes the service of professional wilderness guides, camping equipment, all meals and snacks, transportation including return transfers from Sydney Central Station, national park fees and track fees and more.
2 or 4 Days From
Valued up to $489
holiday Options
---
Inclusion Highlights:
Package valid for one person (twin share - you must purchase two packages)
The services of two professional wilderness guides
One breakfast, two lunches, one dinner and snacks on the trail
One night camping
Inclusion Highlights:
Package valid for one person (twin share - you must purchase two packages)
The services of two professional wilderness guides
Three breakfasts, four lunches and three dinners and snacks on the trail
Three nights camping
Immerse yourself in the wilderness of the rugged region of the World Heritage-listed Blue Mountains in New South Wales. An idyllic destination blessed with dramatic scenery encompassing spectacular peaks, lush eucalyptus forests, thundering waterfalls and verdant hills, the Blue Mountains set the stage for the most incredible adventures amid nature.
What You'll Love...
The Hikes – Choose the perfect one for you
Whether you are a pro hiker ready to tackle a four-day trek amid rock paths, mountains and creeks or just wanting to escape the city for some fresh air on a two-day adventure just two hours from Sydney, we have the perfect hike for you.
You will be camping under the stars for these two adventures with the company of just six or eight other fellow hikers, and your two, professional wilderness guides will have everything you need, including a lightweight tent, a sleeping mat and a sleeping bag. No need to worry about food or camping equipment: meals and all the necessary equipment for camping will be all sorted.
Ruined Castle: A moderate, 26km overnight adventure
This is a two-day mini-adventure that will see you admiring iconic sights including the Ruined Castle – a beautiful rock formation that offers sweeping views over the valley - and the mighty Mt Solitary, commanding the landscape of the Blue Mountains.
This is a moderate hike requiring a reasonable level of fitness. It's a two-day experience, with the second day being over eight hours of walking.
Kanangra to Katoomba (known as K2K): A challenging, 45km four-day hike
Located four hours south west of Sydney, Kanangra-Boyd National Park is an untouched and secluded wilderness area. This challenging and rewarding four-day hike will see you starting in Kanangra walls and walking all the way to the historic town of Katoomba, covering over 45km.
This is an extreme grade walk, requiring a high level of fitness. Both first and last day are long and you can expect to walk around six to eight hours across challenging terrain.
The Equipment & Food – No need to worry about a thing, even your backpack is included
Included in your package is literally everything you can think of - except for your hiking boots and clothes that is!
All the camping equipment will be supplied by your guides, including stove, pots, tarps, tents and sleeping bags, hiking backpacks and first aid kits.
During your hikes, you will indulge in freshly prepared food, including delicious porridge for breakfast, healthy wraps for lunch packed with vegetables, salami or falafel, plus fruit and snacks are always available during the day.
Three-course dinners are prepared with the freshest ingredients in season. Think hearty soups, gnocchi and a delicious crumble to finish. Drinks are also provided: from tea to coffees all the way to hot chocolate, you won't have to worry about a thing.
Perfect for an adventure in one of the most beautiful parts of Australia
Gather your active and adventerous friends or your better half for an unforgettable escape amid the spectacular scenery of NSW's Blue Mountains.
Valid for the following departure dates:
TWO-DAY RUINED CASTLE HIKE:
4 May 2019
1 June 2019
14 June 2019
3 August 2019
7 September 2019
12 October 2019
23 November 2019
14 December 2019
2020:
18 January 2020
8 February 2020
7 March 2020
FOUR-DAY KANANGRA TO KATOOMBA HIKE:
8 May 2019
25 September 2019
15 November 2019
2020:
24 February 2020
26 March 2020
The '7 day change of mind guarantee' does not apply for Tour bookings. Due to the high demand and limited departures any cancellation / refund requests must be made within 48 hours of purchase. Otherwise, the standard Luxury Escapes Refund Policy applies.
The package is valid for ONE PERSON aged 14 years and older (based on twin share). If you are travelling with another person you must purchase TWO PACKAGES.
Travelling with children: This tour is not suitable for children. Guests under the age of 14 are not permitted on the tour.
Maximum Tour Capacity: The maximum tour capacity is six people for the Kanangra to Katoomba hike and eight people for the Ruined Castle hike. A minimum of four hikers are required for the hike to go ahead.
This package is for a tour only. Flights are not included and need to be purchased separately.
Main meals ( breakfasts, lunches and dinners) and snacks such as fresh fruit, trail mix and nibbles are included, but any additional items such as ice cream or coffees will be at your own expense.
Please note, alcohol is not included.
Kanangra to Katoomba Gear List: A complete gear list can be found here for your convenience.
Ruined Castle Gear List: A complete gear list can be found here for your convenience.
Kanangra to Katoomba: EXTREME GRADE - The Kanangra to Katoomba trail is a challenging walk requiring a high level of fitness. Both the first and last days are long and guests can expect to be walking around 6-8 hours across challenging terrain. Guests are advised to undertake training for this walk at least two months in advance. Training should be a combination of bushwalking, climbing up and down long, steep hills and carrying a full pack of a 16-18kg weight range or functional gym-training equivalent.
Ruined Castle: MODERATE GRADE - The Ruined Castle Overnighter is a moderate walk requiring a reasonable level of fitness. Day 2 is long (approximately 8 hours) with a steep ascent and descent of Mt Solitary. Guests are required to carry a full hiking backpack (approximately 10-14kg in weight) into Ruined Castle on day 1 and back to Katoomba on day 2. Compact daypacks will be included for the optional mountain climbs.
Return transfers are included; pick-up on day one and drop-off on day two (Ruined Castle tour) or four (Kanangra to Katoomba trail) will be from Sydney Central Station. Please note the specific location and times will be advised on booking, arrival times are approximate.
Travel insurance is strongly recommended. We suggest purchasing travel insurance as soon as possible after purchasing this accommodation package.
Strictly no refunds for this accommodation package for amendments and change of date - fees are at the tour operator's discretion/policy.
Any unused portion of the package is non-refundable and cannot be exchanged for other services or cash.
The value and comparative savings has been determined based on the tour operator's published rack rates and the value of inclusions. Please be advised that rack rates may not be reflective of actual rates being charged, dependent on the timing and manner of your booking and therefore are only indicative of the level of saving.
Please note that full terms and conditions apply. Refer to website's terms and conditions.
Booking Guarantee
Exclusively negotiated offers. We go direct to ensure you get the best price possible.
Quality guaranteed.