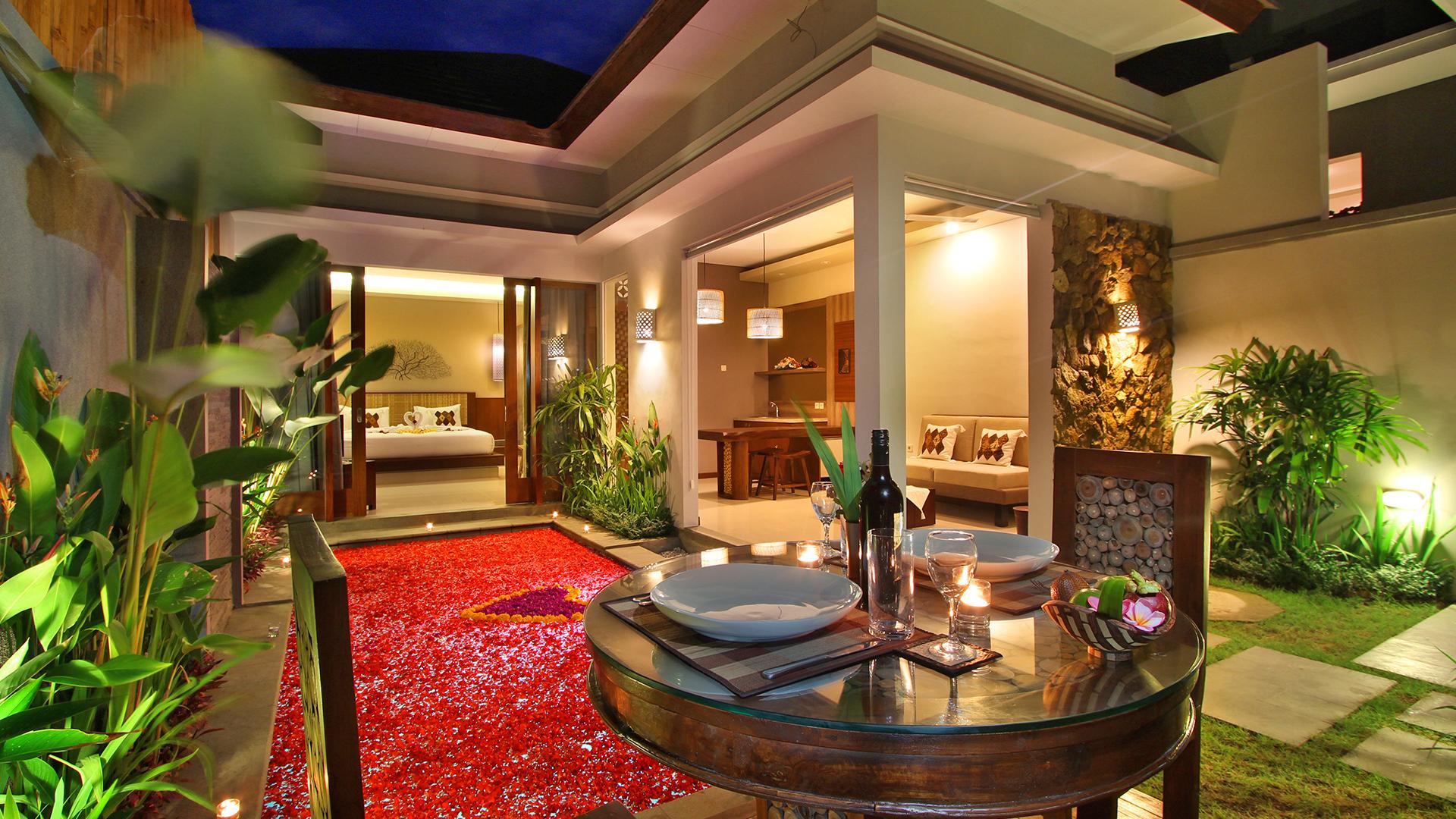 Private Pool Villa Escape in the Heart of Seminyak
Experience one of Bali's most popular holiday spots from the secluded luxury of your very own private pool villa, with a stay at the boutique Maharaja Villas & Spa Seminyak—a secret hideaway located within bustling Seminyak. Treat yourself to a sun-kissed holiday and enjoy daily a la carte breakfast, decadent set-menu dinners, nightly cocktail each, daily afternoon tea, a 60-minute full body massage each and more.
3, 5 or 7 Nights From
Valued up to A$1,887

Book now. Pay Later.
holiday Options
---
PRIVATE POOL VILLA ESCAPE
One Bedroom Pool Villa
Inclusion Highlights:
Inclusions are valid for two people
Two decadent set-menu dinners at Kayumanis restaurant
Daily set menu breakfast served at Kayumanis restaurant or in your villa
Nightly cocktail each at Kayumanis restaurant
GROUP UPGRADE
Two Bedroom Pool Villa
Inclusion Highlights:
Inclusions are valid for four people
Two decadent set-menu dinners at Kayumanis restaurant
Daily set menu breakfast served at Kayumanis restaurant or in your villa
Nightly cocktail each at Kayumanis restaurant
PRIVATE POOL VILLA ESCAPE
One Bedroom Pool Villa
Inclusion Highlights:
Inclusions are valid for two people
Three decadent set-menu dinners at Kayumanis restaurant
Private return transfers from Denpasar Airport
Daily set menu breakfast served at Kayumanis restaurant or in your villa
GROUP UPGRADE
Two Bedroom Pool Villa
Inclusion Highlights:
Inclusions are valid for four people
Three decadent set-menu dinners at Kayumanis restaurant
Private return transfers from Denpasar Airport
Daily set menu breakfast served at Kayumanis restaurant or in your villa
PRIVATE POOL VILLA ESCAPE
One Bedroom Pool Villa
Inclusion Highlights:
Inclusions are valid for two people
Three decadent set-menu dinners at Kayumanis restaurant
Private return transfers from Denpasar Airport
Daily set menu breakfast served at Kayumanis restaurant or in your villa
GROUP UPGRADE
Two Bedroom Pool Villa
Inclusion Highlights:
Inclusions are valid for four people
Three decadent set-menu dinners at Kayumanis restaurant
Private return transfers from Denpasar Airport
Daily set menu breakfast served at Kayumanis restaurant or in your villa