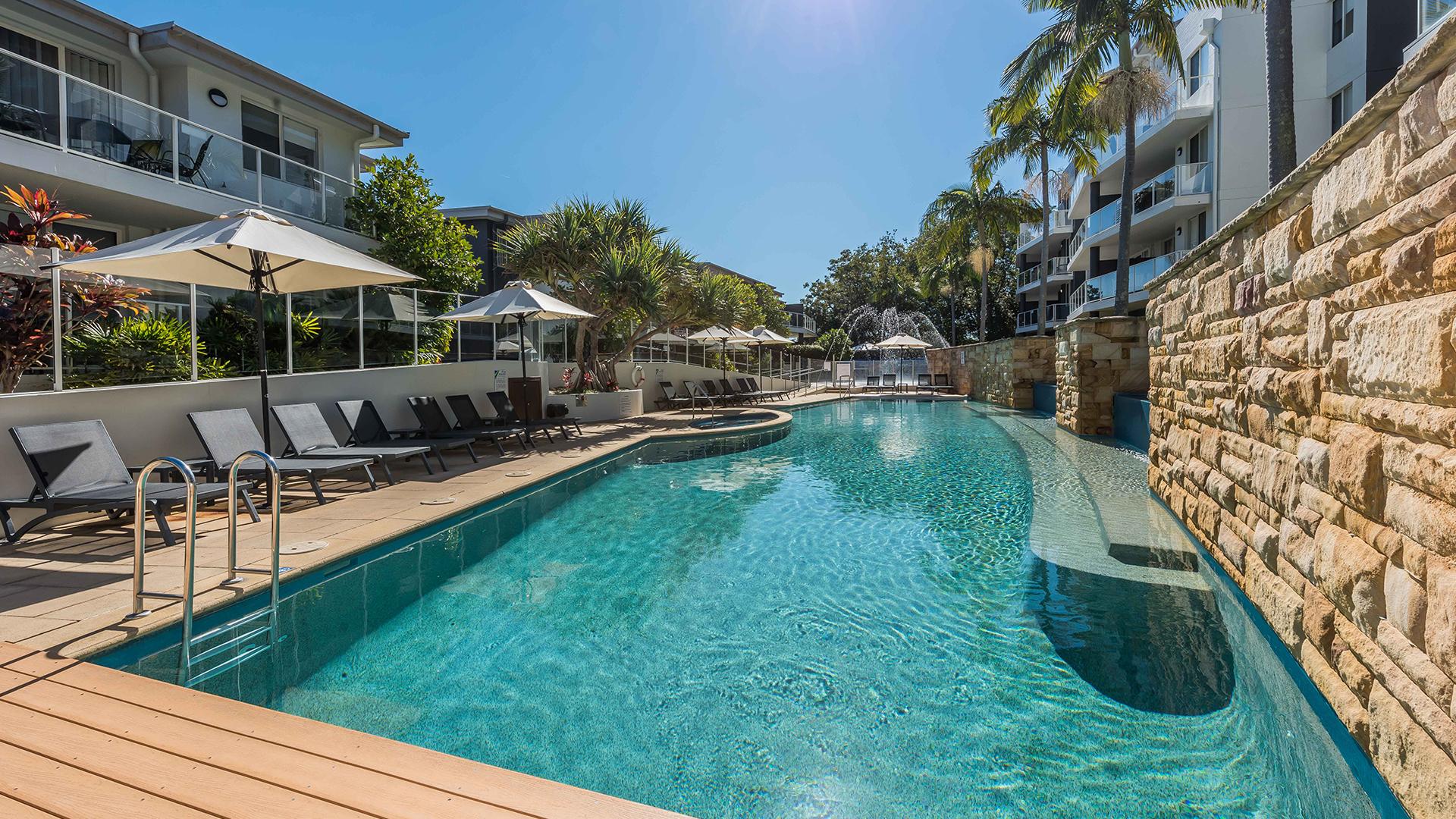 Mantra Nelson Bay
Coastal Apartment Stay in the Heart of Port Stephens

Dive into a coastal nirvana blessed with spectacular scenery, white-sand beaches and dramatic sand dunes plunging into clear emerald waters at Mantra Nelson Bay in Port Stephens. Complete with a stylish collection of fully equipped one, two and three-bedroom apartments, a relaxing lagoon-style pool and prime location just a short stroll from Fly Point beach and a short 15-minute drive to the surf havens of Fingal Bay and One Mile Beach, this revitalising seaside escape is the perfect place for extended romantic weekends or fun-filled family escapes. Head out on a dolphin or whale-watching cruise (seasonal), go quad biking across sand dunes or explore myriad nature trails and shimmering beaches — Port Stephens has it all.
Your handpicked inclusions:
Extend that holiday feeling with early check-in and late checkout (subject to availability)
Travelling with family or friends? There's plenty of room to spread out and unwind when you upgrade to a Two-Bedroom Apartment for up to four or a Three-Bedroom Apartment for up to six guests.
Penthouse Upgrade: If you're feeling extra lavish, indulge with the Three-Bedroom Penthouse Apartment, featuring a private top-floor balcony offering a bird's-eye view over the entire resort, Nelson Bay and the stunning blue waters, and ducted air-conditioning throughout.
Mystery Picnic Upgrade: Explore local highlights and uncover hidden gourmet food spots when you upgrade to the Mystery Picnic package. Beginning in the Mantra Nelson Bay lobby, this tour invites you to have fun solving riddles as you embark on a journey to collect gourmet picnic delights one by one, with each clue leading you closer to your next picnic food pick-up (available for Two-Bedroom Pool-View and Three-Bedroom Standard Apartments only).
Interest-free payment options available 

Interest-free payment options available 

holiday Options
Select your holiday type
One-Bedroom Apartment
Perfect for two, this contemporary open-plan apartment features a private balcony or courtyard, plush king bed, a gourmet kitchen with modern appliances and a beautifully quiet location towards the rear of the resort
Room Size: 51 m²
Inclusion highlights:
Early check-in and late checkout (subject to availability, on request)
Standard Check-in: 3pm / Standard Checkout: 10am
Inclusions valid for up to two guests
Two-Bedroom Apartment Standard
Perfect for a family or two couples, this two-bedroom apartment features a gourmet kitchen with modern appliances, a spacious lounge area and a quiet location at the rear of the resort
Room Size: 71 m²
Inclusion highlights:
Early check-in and late checkout (subject to availability, on request)
Standard Check-in: 3pm / Standard Checkout: 10am
Inclusions valid for up to four guests
Two-Bedroom Apartment Superior
Sunny and spacious, this two-bedroom, two-bathroom apartment features a gourmet kitchen with modern appliances and a private balcony overlooking the picturesque neighbourhood
Room Size: 97 m²
Inclusion highlights:
Early check-in and late checkout (subject to availability, on request)
Standard Check-in: 3pm / Standard Checkout: 10am
Inclusions valid for up to four guests
Two-Bedroom Apartment Pool View
Featuring a private balcony with beautiful lagoon pool views, this two-bedroom, two-bathroom apartment features a gourmet kitchen and spacious lounge area
Room Size: 97 m²
Inclusion highlights:
Early check-in and late checkout (subject to availability, on request)
Standard Check-in: 3pm / Standard Checkout: 10am
Inclusions valid for up to four guests
FAMILY POOL-VIEW UPGRADE — MYSTERY PICNIC UPGRADE
Two-Bedroom Apartment Pool View
Featuring a private balcony with beautiful lagoon pool views, this two-bedroom, two-bathroom apartment features a gourmet kitchen and spacious lounge area
Room Size: 97 m²
Inclusion highlights:
One-time Premium Mystery Picnic per person
Early check-in and late checkout (subject to availability, on request)
Standard Check-in: 3pm / Standard Checkout: 10am
Inclusions valid for up to four guests
Three-Bedroom Apartment Standard
Perfect for a large family or group, this spacious open-plan apartment features three bedrooms and two bathrooms, a gourmet kitchen, private balcony or courtyard and a peaceful location at the rear of the resort
Room Size: 123 m²
Inclusion highlights:
Early check-in and late checkout (subject to availability, on request)
Standard Check-in: 3pm / Standard Checkout: 10am
Inclusions valid for up to six guests
GROUP UPGRADE — MYSTERY PICNIC UPGRADE
Three-Bedroom Apartment Standard
Perfect for a large family or group, this spacious open-plan apartment features three bedrooms and two bathrooms, a gourmet kitchen, private balcony or courtyard and a peaceful location at the rear of the resort
Room Size: 123 m²
Inclusion highlights:
One-time Premium Mystery Picnic per person
Early check-in and late checkout (subject to availability, on request)
Standard Check-in: 3pm / Standard Checkout: 10am
Inclusions valid for up to six guests
GROUP RESORT-VIEW UPGRADE
Three-Bedroom Apartment Resort View
Unwind in the comfort of your private three-bedroom, two-bathroom retreat, with partial pool views from your private balcony or courtyard
Room Size: 138 m²
Inclusion highlights:
Early check-in and late checkout (subject to availability, on request)
Standard Check-in: 3pm / Standard Checkout: 10am
Inclusions valid for up to six guests
Three-Bedroom Penthouse Apartment
Boasting a private top-floor balcony with stunning views over the resort and beautiful blue waters of Port Stephens, this three-bedroom, two-bathroom penthouse features a large living area and gourmet kitchen
Room Size: 146 m²
Inclusion highlights:
Early check-in and late checkout (subject to availability, on request)
Standard Check-in: 3pm / Standard Checkout: 10am
Inclusions valid for up to six guests