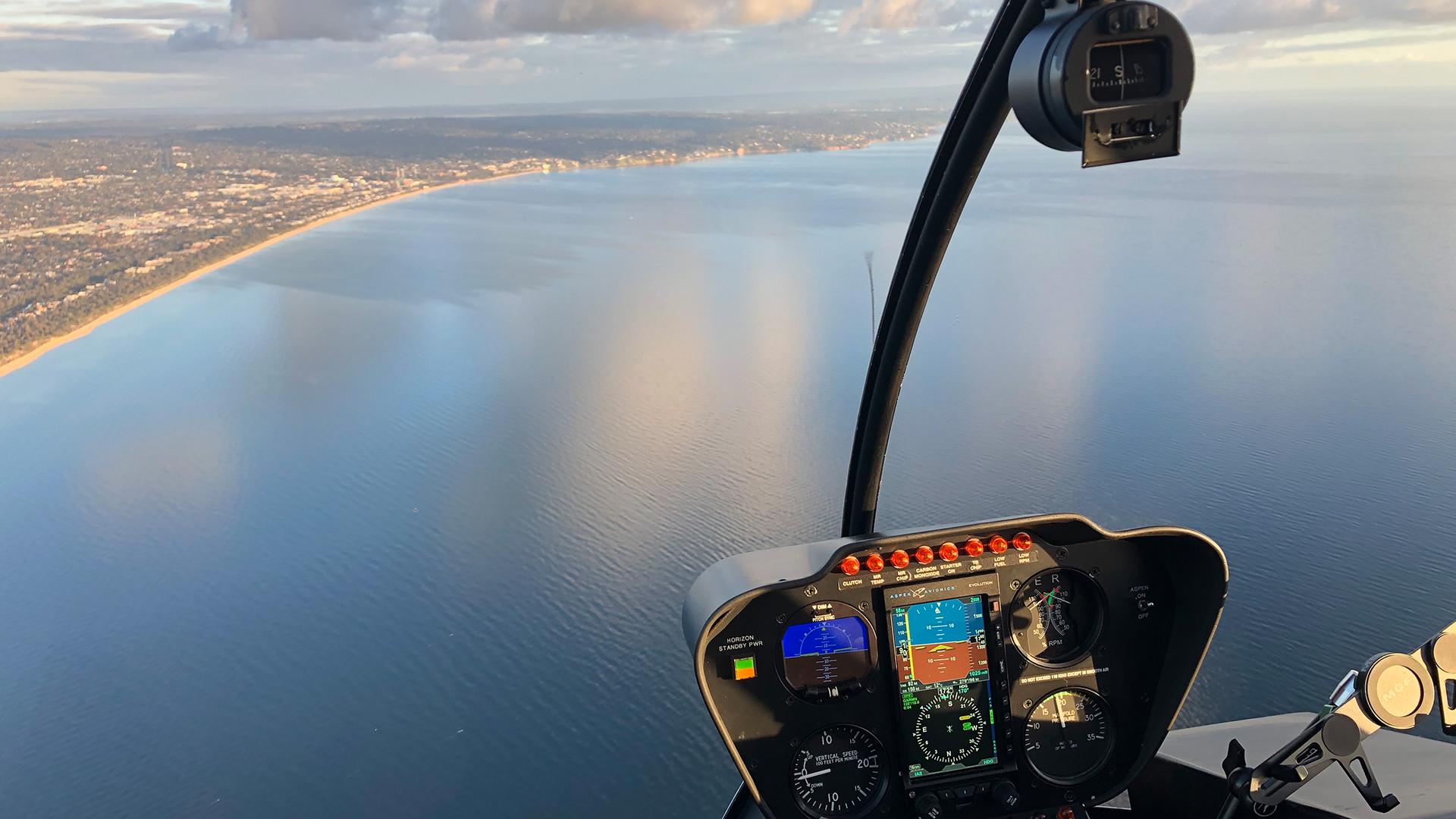 Melbourne to Mornington Peninsula: Half-Day Private Helicopter Tour with Beer Tasting & Lunch at St Andrews Brewery
Looking for unforgettable moments without travelling too far from home? This once-in-a-lifetime Melbourne private helicopter experience, exclusive to Luxury Escapes, offers exactly that: taking you from Melbourne's Moorabbin Airport and over the vibrant CBD to the glistening coastline of Sorrento and Mornington Peninsula. Savour a taste of Victorian thoroughbred craft brewing on this ultimate half-day experience with a visit to the renowned St Andrews Beach Brewery, an acclaimed beer institution built within the former training facility of Australian horseracing greats, including Makybe Diva and Mummify.
Begin your experience at Moorabbin Airport in style with a chilled glass of sparkling wine or beer. Climb aboard your private helicopter (max. three guests) for a thrilling flight 85-minute flight, taking in sights including the glittering skyscrapers of the CBD, the MCG, Albert Park Lake, Brighton's famous colourful beach boxes and more before coming in to land on the iconic Mornington Peninsula.
Here, you'll enjoy a delicious lunch paired with a craft-beer tasting paddle at the 92-acre St Andrews Beach Brewery estate. Over 100 group one winners have called these stables home and now you can experience their history with brews crafted using the finest hops, malt and local artesian water. Back onboard your private charter, panoramic vistas of Cape Schanck's historic lighthouse and the sweeping Port Phillip Bay coastline await as you journey back to Moorabbin Airport.
Your experience includes:
Roundtrip helicopter flight over Melbourne CBD, Mornington Peninsula and Port Phillip Bay (approximate flight duration 85 minutes)
A delicious lunch served with a craft-beer tasting paddle at St Andrews Beach Brewery on the Mornington Peninsula
Celebrate the day ahead with a welcome glass of sparkling wine or beer each
Services of a dedicated pilot to escort you from destination to destination
Time limited offer
1 Day from
One Person
Valued up to A$962
Interest-free payment options available 

holiday Options
1 Day from
Valued up to A$962
Sold out
Inclusion highlights:
Inclusions valid for one person
Roundtrip helicopter flight (approx. 85 minutes) over the CBD and Mornington Peninsula
Lunch and a craft-beer tasting paddle at St Andrews Beach Brewery
Glass of sparkling wine or beer on arrival
Services of a pilot to escort you from destination to destination
1 Day from
Valued up to A$962
Sold out
Inclusion highlights:
Inclusions valid for one person
Roundtrip helicopter flight (approx. 85 minutes) over the CBD and Mornington Peninsula
Lunch and a craft-beer tasting paddle at St Andrews Beach Brewery
Glass of sparkling wine or beer on arrival
Services of a pilot to escort you from destination to destination
1 Day from
Valued up to A$962
Sold out
Inclusion highlights:
Inclusions valid for one person
Roundtrip helicopter flight (approx. 85 minutes) over the CBD and Mornington Peninsula
Lunch and a craft-beer tasting paddle at St Andrews Beach Brewery
Glass of sparkling wine or beer on arrival
Services of a pilot to escort you from destination to destination
1 Day from
Valued up to A$962
Sold out
Inclusion highlights:
Inclusions valid for one person
Roundtrip helicopter flight (approx. 85 minutes) over the CBD and Mornington Peninsula
Lunch and a craft-beer tasting paddle at St Andrews Beach Brewery
Glass of sparkling wine or beer on arrival
Services of a pilot to escort you from destination to destination
1 Day from
Valued up to A$962
Sold out
Inclusion highlights:
Inclusions valid for one person
Roundtrip helicopter flight (approx. 85 minutes) over the CBD and Mornington Peninsula
Lunch and a craft-beer tasting paddle at St Andrews Beach Brewery
Glass of sparkling wine or beer on arrival
Services of a pilot to escort you from destination to destination