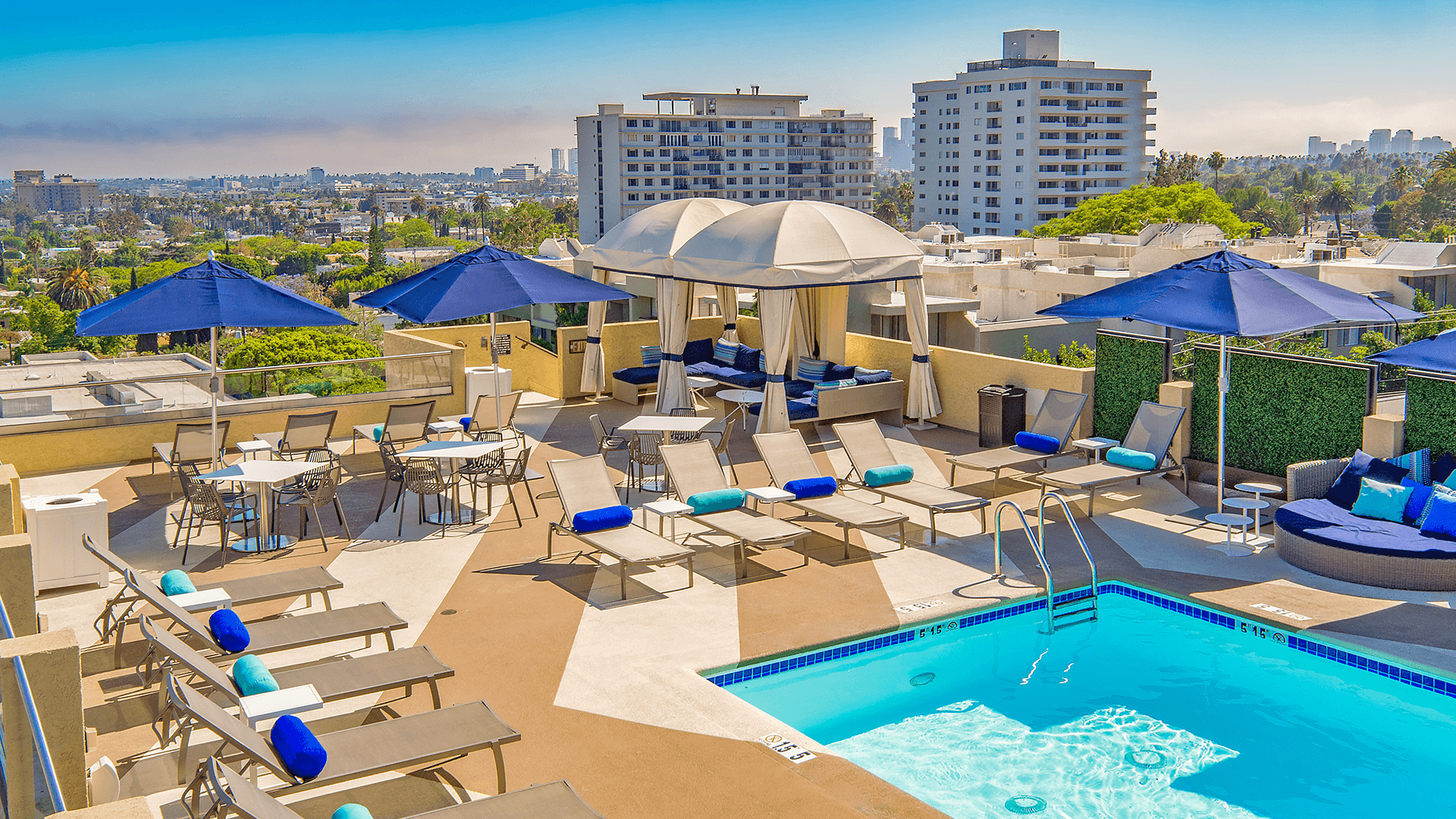 Boutique West Hollywood Luxury with Daily Wine Hour
Experience LA's playground for the rich and famous staying in the most glamourous of locations—tucked away down a tree-lined street and nestled between Beverly Hills and West Hollywood. Get a taste of high-end Hollywood with a four or six-night escape at the all-suite Montrose West Hollywood with daily continental breakfast, nightly free-flow Vino and Vinyl hour for two and an included amenity fee which gives you access to the 24-hour fitness centre, daily-replenished water bottles and more.
4 or 6 Nights From
Valued up to A$3,684

Book now. Pay Later.
holiday Options
CHIC STAY
Petite Queen Suite
Inclusion highlights:
Inclusions are valid for two people
Daily continental breakfast
Daily Vino and Vinyl hour from 5 - 6pm - enjoy free-flowing wine as you listen to old-school records
Amenity fee including access to the fitness centre and rooftop pool, plus morning coffee, a daily-replenished water bottle, daily newspaper, luggage storage, domestic phone calls and more
VIP UPGRADE
Superior King Suite
Inclusion highlights:
Inclusions are valid for two people
Larger suite with fully-equipped kitchenette and a private balcony with L.A. city views
Daily continental breakfast
Daily Vino and Vinyl hour from 5 - 6pm - enjoy free-flowing wine as you listen to old-school records
HOLLYWOOD UPGRADE
Deluxe One-Bedroom King Suite
Inclusion highlights:
Inclusions are valid for two people
One-bedroom suite boasting a fully-equipped kitchen, private balcony with city views and a spacious lounge area
Daily continental breakfast
Daily Vino and Vinyl hour from 5 - 6pm - enjoy free-flowing wine as you listen to old-school records
CHIC STAY
Petite Queen Suite
Inclusion highlights:
Inclusions are valid for two people
Daily continental breakfast
Daily Vino and Vinyl hour from 5 - 6pm - enjoy free-flowing wine as you listen to old-school records
Amenity fee including access to the fitness centre and rooftop pool, plus morning coffee, a daily-replenished water bottle, daily newspaper, luggage storage, domestic phone calls and more
VIP UPGRADE
Superior King Suite
Inclusion highlights:
Inclusions are valid for two people
Larger suite with fully-equipped kitchenette and a private balcony with L.A. city views
Daily continental breakfast
Daily Vino and Vinyl hour from 5 - 6pm - enjoy free-flowing wine as you listen to old-school records
HOLLYWOOD UPGRADE
Deluxe One-Bedroom King Suite
Inclusion highlights:
Inclusions are valid for two people
One-bedroom suite boasting a fully-equipped kitchen, private balcony with city views and a spacious lounge area
Daily continental breakfast
Daily Vino and Vinyl hour from 5 - 6pm - enjoy free-flowing wine as you listen to old-school records