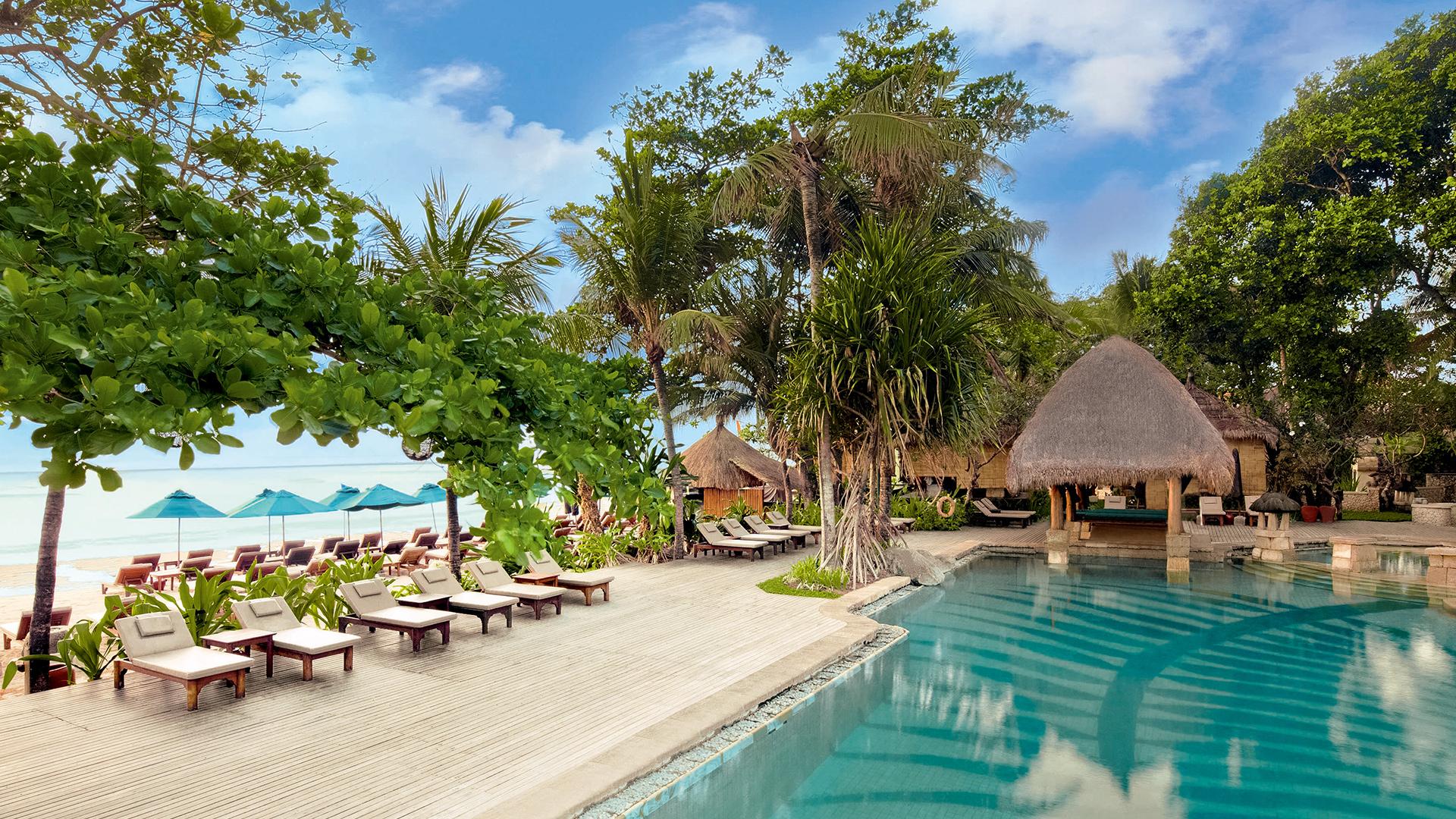 Nusa Dua Beachfront Stay with Dining Experiences and Daily Cocktails
Relax and unwind at Novotel Bali Benoa, a beachfront resort on the scenic Tanjung Benoa peninsula just a stone's throw from the attractions of Nusa Dua. Enjoy a sun-kissed escape in this tropical paradise complete with daily buffet breakfast, two themed buffet dining experiences, a daily cocktail per person, a one-hour massage per person, private return transfers from Bali's international airport and lazy late checkout at 2pm (subject to availability). Plus two kids aged 15 and under stay free!
8 or 10 Nights From
Valued up to A$2,350

Book now. Pay Later.
holiday Options
Inclusion highlights:
Inclusions are valid for two adults
Daily buffet breakfast served at Uluwatu Restaurant or beachside
Two themed buffet dinner experiences featuring a daily rotating menu of Mediterranean, Balinese, seafood, Mongolian and more cuisines
A daily signature cocktail at Nanas Bar
A 60-minute relaxing traditional massage
Private return transfers from Bali's international airport
Late checkout at 2pm (subject to availability)
Check-in: 2pm
VIP UPGRADE
Tropical Terrace
Inclusion highlights:
Inclusions are valid for two adults
Daily buffet breakfast served at Uluwatu Restaurant or beachside
Three themed buffet dinner experiences featuring a daily rotating menu of Mediterranean, Balinese, seafood, Mongolian and more cuisines
A daily signature cocktail at Nanas Bar
Two 60-minute relaxing traditional massages
Private return transfers from Bali's international airport
Late check-out at 2pm (subject to availability)
Check-in: 2pm
Inclusion highlights:
Inclusions are valid for two adults
Daily buffet breakfast served at Uluwatu Restaurant or beachside
Two themed buffet dinner experiences featuring a daily rotating menu of Mediterranean, Balinese, seafood, Mongolian and more cuisines
A daily signature cocktail at Nanas Bar
A 60-minute relaxing traditional massage
Private return transfers from Bali's international airport
Late checkout at 2pm (subject to availability)
Check-in: 2pm
VIP UPGRADE
Tropical Terrace
Inclusion highlights:
Inclusions are valid for two adults
Daily buffet breakfast served at Uluwatu Restaurant or beachside
Three themed buffet dinner experiences featuring a daily rotating menu of Mediterranean, Balinese, seafood, Mongolian and more cuisines
A daily signature cocktail at Nanas Bar
Two 60-minute relaxing traditional massages
Private return transfers from Bali's international airport
Late check-out: 2pm (subject to availability)
Check-in: 2pm