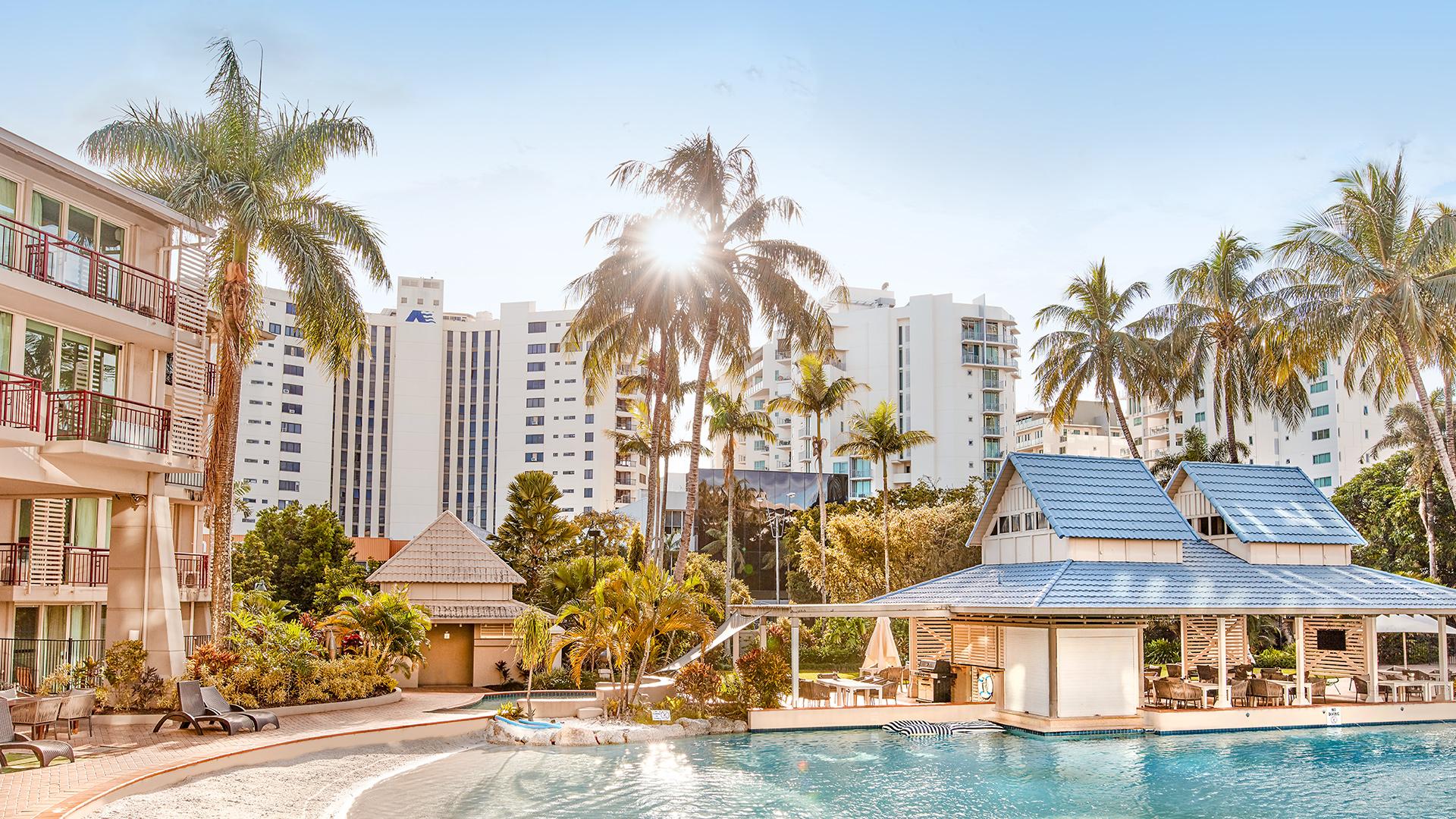 Grand Re-Opening: Novotel Cairns Escape with Daily Breakfast – Two Kids Stay Free
Revel in the coastal bliss of Tropical North Queensland with a picture-perfect escape for families and couples at the renowned and newly renovated Novotel Cairns Oasis Resort. Take a plunge in the massive lagoon pool, relax at Cairn's only swim-up pool bar and get adventurous with easy access to the Great Barrier Reef and Cairns Esplanade. Having unveiled a contemporary new look in October 2019 thanks to a multi-million-dollar refurbishment, you'll love sleeping in a freshly revamped and upgraded Deluxe King Room with daily full buffet breakfast for two adults, an AU$50 food and drink credit to use at Moku Restaurant + Bar, complimentary Wi-Fi and guaranteed 12pm late checkout so you can take advantage of this sun-soaked escape to the uttermost. Travelling with family? Two kids (15 years and under) stay free with breakfast in Deluxe Twin Rooms!
3, 5 or 7 Nights From
Valued up to A$1,011

Book now. Pay Later.
holiday Options
---
COUPLES' CAIRNS ESCAPE
Deluxe King Room
Inclusion Highlights:
Inclusions valid for two adults
Daily full buffet breakfast for two adults at Moku Restaurant + Bar
An AU$50 food and drink credit per room to use at Moku Restaurant + Bar
Guaranteed upgrade to a Deluxe King Room
FAMILY CAIRNS ESCAPE
Deluxe Twin Room
Inclusion Highlights:
Inclusions valid for two adults
Two children stay and eat daily breakfast free
Daily full buffet breakfast for two adults at Moku Restaurant + Bar
An AU$50 food and drink credit per room to use at Moku Restaurant + Bar
COUPLES' POOL VIEW UPGRADE
Deluxe Pool View Room - King
Inclusion Highlights:
Inclusions valid for two adults
Daily full buffet breakfast for two adults at Moku Restaurant + Bar
An AU$50 food and drink credit per room to use at Moku Restaurant + Bar
Guaranteed upgrade to a Deluxe King Room
FAMILY POOL VIEW UPGRADE
Deluxe Pool View Room - Twin
Inclusion Highlights:
Inclusions valid for two adults
Two children stay and eat daily breakfast free
Daily full buffet breakfast for two adults at Moku Restaurant + Bar
An AU$50 food and drink credit per room to use at Moku Restaurant + Bar
COUPLES' CAIRNS ESCAPES
Deluxe King Room
Inclusion Highlights:
Inclusions valid for two adults
An AU$100 food and drink credit per room to use at Moku Restaurant + Bar
Daily full buffet breakfast for two adults at Moku Restaurant + Bar
Guaranteed upgrade to a Deluxe King Room
FAMILY CAIRNS ESCAPES
Deluxe Twin Room
Inclusion Highlights:
Inclusions valid for two adults
Two children stay and eat daily breakfast free
An AU$100 food and drink credit per room to use at Moku Restaurant + Bar
Daily full buffet breakfast for two adults at Moku Restaurant + Bar
COUPLES' POOL VIEW UPGRADE
Deluxe Pool View Room - King
Inclusion Highlights:
Inclusions valid for two adults
An AU$100 food and drink credit per room to use at Moku Restaurant + Bar
Daily full buffet breakfast for two adults at Moku Restaurant + Bar
Guaranteed upgrade to a Deluxe King Room
FAMILY POOL VIEW UPGRADE
Deluxe Pool View Room - Twin
Inclusion Highlights:
Inclusions valid for two adults
Two children stay and eat daily breakfast free
An AU$100 food and drink credit per room to use at Moku Restaurant + Bar
Daily full buffet breakfast for two adults at Moku Restaurant + Bar
COUPLES' CAIRNS ESCAPE
Deluxe King Room
Inclusion Highlights:
Inclusions valid for two adults
An AU$150 food and drink credit per room to use at Moku Restaurant + Bar
Daily full buffet breakfast for two adults at Moku Restaurant + Bar
Guaranteed upgrade to a Deluxe King Room
FAMILY CAIRNS ESCAPE
Deluxe Twin Room
Inclusion Highlights:
Inclusions valid for two adults
Two children stay and eat daily breakfast free
An AU$150 food and drink credit per room to use at Moku Restaurant + Bar
Daily full buffet breakfast for two adults at Moku Restaurant + Bar
COUPLES' POOL VIEW UPGRADE
Deluxe Pool View Room - King
Inclusion Highlights:
Inclusions valid for two adults
An AU$150 food and drink credit per room to use at Moku Restaurant + Bar
Daily full buffet breakfast for two adults at Moku Restaurant + Bar
Guaranteed upgrade to a Deluxe King Room
FAMILY POOL VIEW UPGRADE
Deluxe Pool View Room - Twin
Inclusion Highlights:
Inclusions valid for two adults
Two children stay and eat daily breakfast free
An AU$150 food and drink credit per room to use at Moku Restaurant + Bar
Daily full buffet breakfast for two adults at Moku Restaurant + Bar