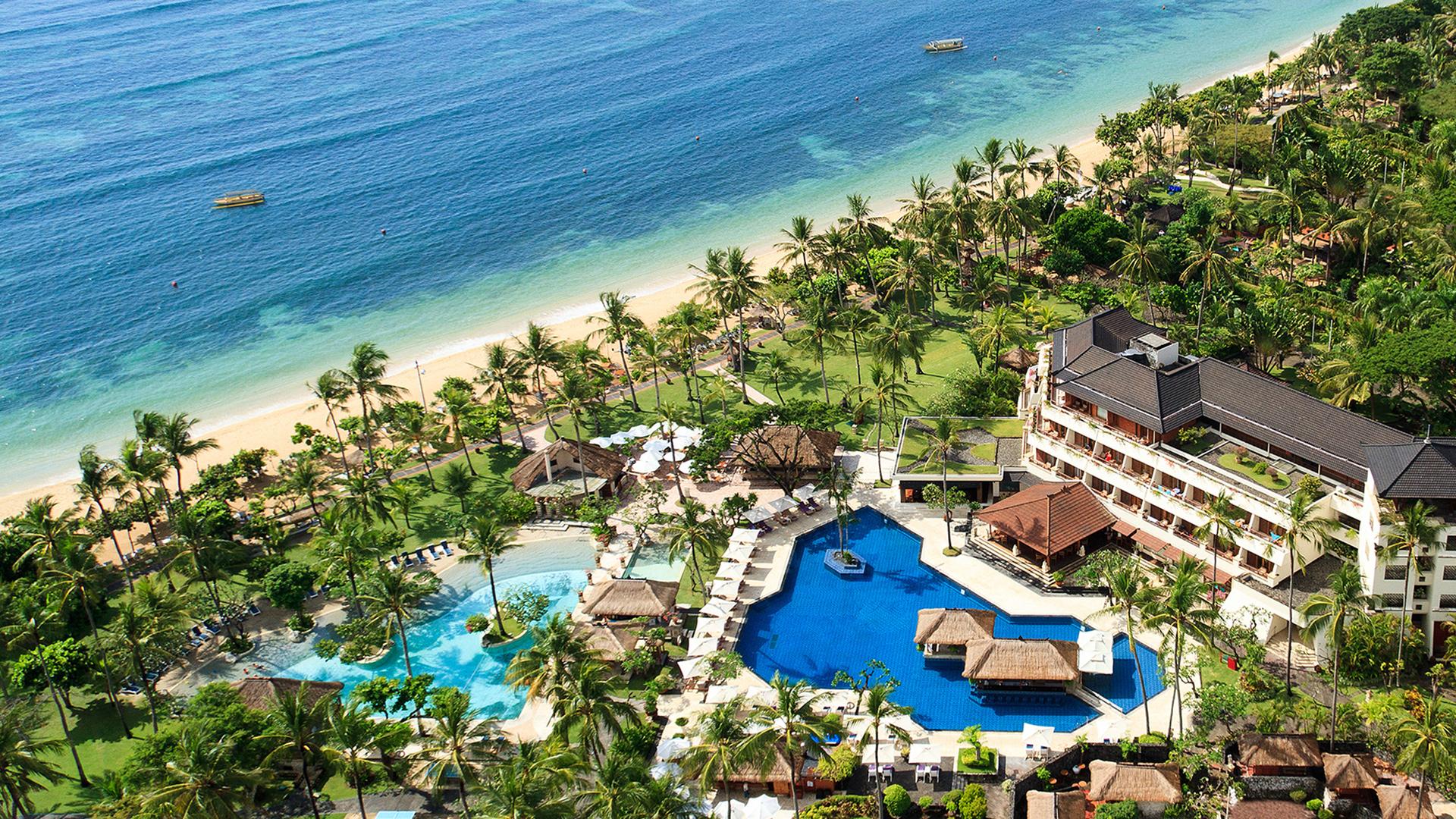 Authentic Bali Beachfront Indulgence
Discover the ultimate Bali beachside getaway at the legendary Nusa Dua Beach Hotel & Spa, located on 'Millionaire's Row'. From daily buffet breakfast, three buffet or a la carte dinners at some of the hotel's award-winning restaurants and evenings of live cultural entertainment, it's guaranteed to be a holiday to remember. Also included in your package is a relaxing 50-minute massage each and a convenient one-way airport transfer. Plus, one child (aged 11 years and under) stays, plays and receives all dining inclusions, as well as unlimited Kids' Club access.
5 or 7 Nights From
Valued up to A$2,711

Book now. Pay Later.
holiday Options
---
Inclusion Highlights:
Inclusions valid for two people
One child (aged 11 years and under) stays, plays and receives all dining inclusions
Daily buffet breakfast at Wedang Jahe restaurant
Three buffet or two-course, a la carte dinners
PREMIER UPGRADE
Premier Room
Inclusion Highlights:
Inclusions valid for two people
One child (aged 11 years and under) stays, plays and receives all dining inclusions
Daily buffet breakfast at Wedang Jahe restaurant
Three buffet or two-course, a la carte dinners
CLUB UPGRADE
Palace Club Room
Inclusion Highlights:
Inclusions valid for two people
One child (aged 11 years and under) stays, plays & eats free
Exclusive Palace Club Access: Daily breakfast and afternoon tea, evening cocktails, butler service & more
Three buffet or a la carte dinners
Inclusion Highlights:
Inclusions valid for two people
One child (aged 11 years and under) stays, plays and receives all dining inclusions
Four buffet or two-course, a la carte dinners
Daily buffet breakfast at Wedang Jahe restaurant
PREMIER UPGRADE
Premier Room
Inclusion Highlights:
Inclusions valid for two people
One child (aged 11 years and under) stays, plays and receives all dining inclusions
Four buffet or two-course, a la carte dinners
Daily buffet breakfast at Wedang Jahe restaurant
CLUB UPGRADE
Palace Club Room
Inclusion Highlights:
Inclusions valid for two people
One child (aged 11 years and under) stays, plays and receives all dining inclusions
Exclusive Palace Club Access: Daily breakfast and afternoon tea, evening cocktails with nibbles, butler service & much more
Four buffet or two-course, a la carte dinners