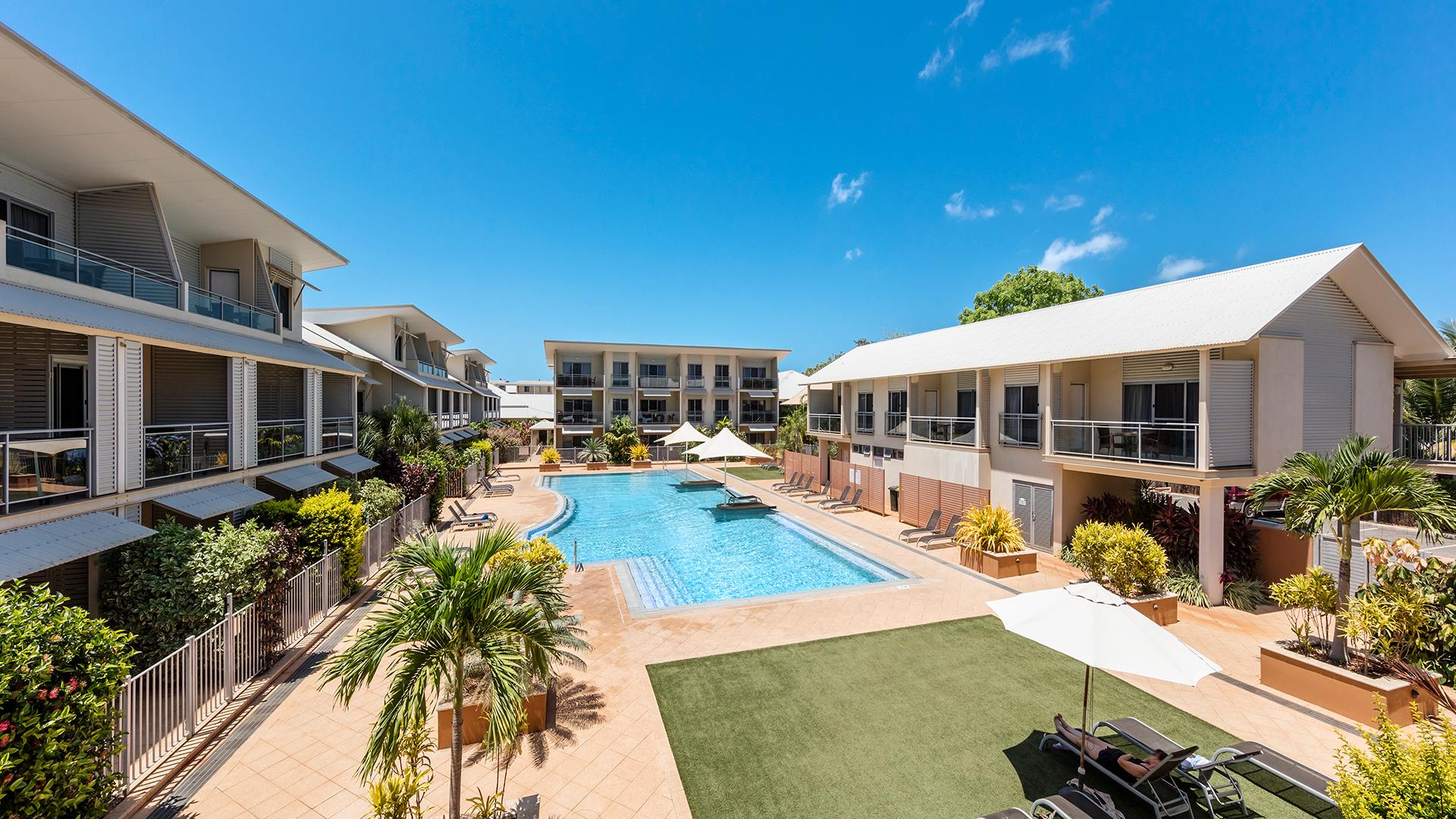 Modern Apartment Stay in the Kimberley Region
Escape to the picturesque Roebuck Bay, famed for its rich red soil and aquamarine waters, on the striking coastline of Western Australia's Kimberley Region. Enjoy a stay in a modern and compact Studio Room at Oaks Broome, a coastal oasis surrounded by stunning landscaped gardens, and enjoy daily buffet and a la carte breakfast, a welcome drink on arrival and a convenient and guaranteed late 12pm checkout.
2, 3 or 5 Nights From
Valued up to A$638

Book now. Pay Later.
holiday Options
Inclusion highlights:
Inclusions valid for two adults
Daily buffet breakfast at 1861 Restaurant
A welcome drink: house wine, beer or soft drink on arrival
Guaranteed late 12pm checkout
VIP UPGRADE
One Bedroom Poolside
Inclusion highlights:
Inclusions valid for two adults
Daily buffet breakfast at 1861 Restaurant
A welcome drink: house wine, beer or soft drink on arrival
Guaranteed late 12pm checkout
GROUP UPGRADE
Two Bedroom Poolside Apartment
Inclusion highlights:
Inclusions valid for four people
Daily buffet breakfast at 1861 Restaurant
A welcome drink: house wine, beer or soft drink on arrival
Guaranteed late 12pm checkout
Inclusion highlights:
Inclusions valid for two adults
Daily buffet breakfast at 1861 Restaurant
A welcome drink: house wine, beer or soft drink on arrival
Guaranteed late 12pm checkout
VIP UPGRADE
One Bedroom Poolside
Inclusion highlights:
Inclusions valid for two adults
Daily buffet breakfast at 1861 Restaurant
A welcome drink: house wine, beer or soft drink on arrival
Guaranteed late 12pm checkout
GROUP UPGRADE
Two Bedroom Poolside Apartment
Inclusion highlights:
Inclusions valid for four people
Daily buffet breakfast at 1861 Restaurant
A welcome drink: house wine, beer or soft drink on arrival
Guaranteed late 12pm checkout
Inclusion highlights:
Inclusions valid for two adults
Daily buffet breakfast at 1861 Restaurant
A welcome drink: house wine, beer or soft drink on arrival
Guaranteed late 12pm checkout
VIP UPGRADE
One Bedroom Poolside
Inclusion highlights:
Inclusions valid for two adults
Daily buffet breakfast at 1861 Restaurant
A welcome drink: house wine, beer or soft drink on arrival
Guaranteed late 12pm checkout
GROUP UPGRADE
Two Bedroom Poolside Apartment
Inclusion highlights:
Inclusions valid for four people
Daily buffet breakfast at 1861 Restaurant
A welcome drink: house wine, beer or soft drink on arrival
Guaranteed late 12pm checkout