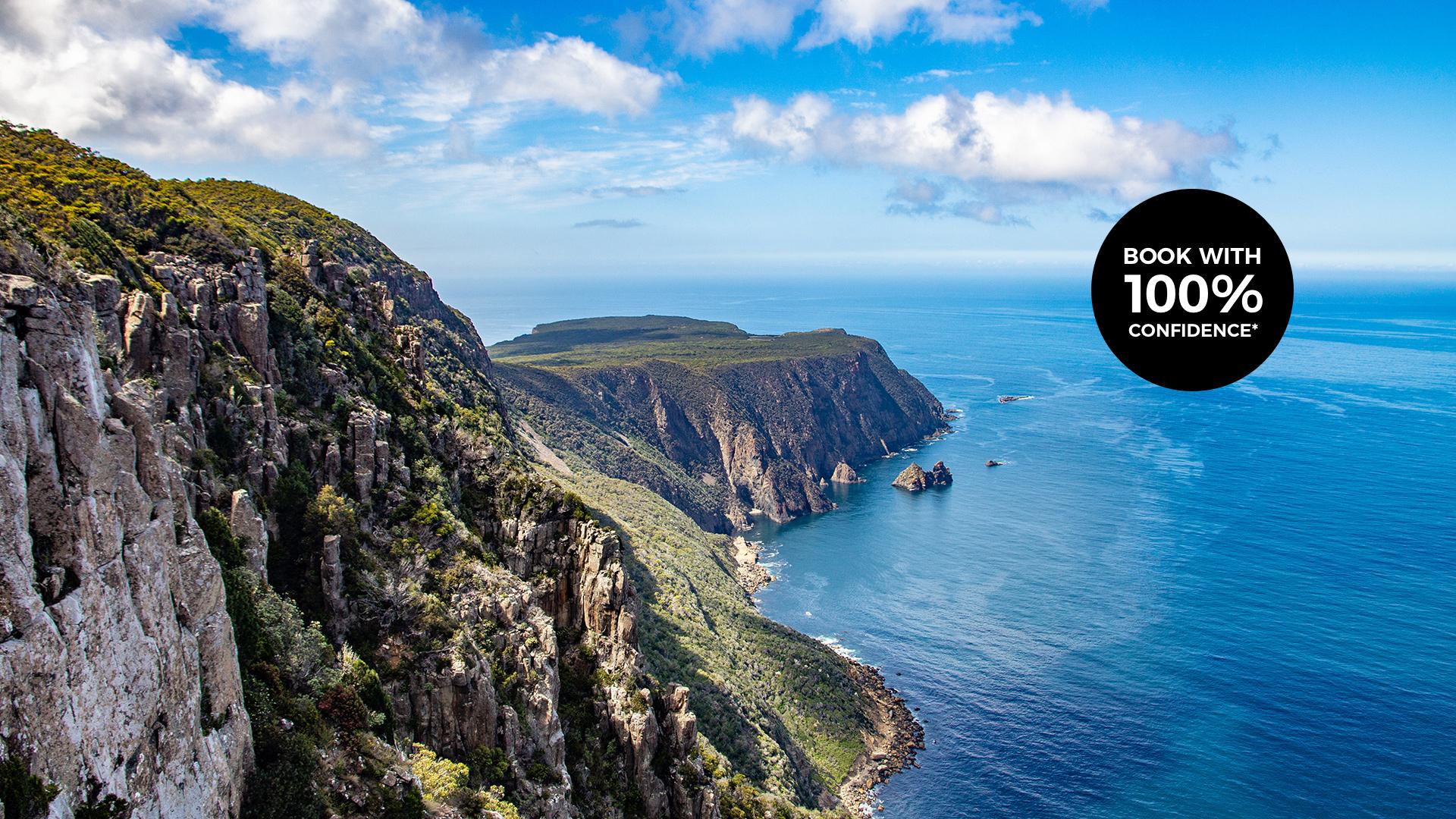 Tasman Peninsula 2022: 3-Day Small-Group Winter Walking Tour with All Meals & Spectacular Guided Hikes

Take in the spectacular natural beauty of Tasmania on a three-day small-group winter walking tour (max. 10 travellers) through the Tasman Peninsula. Let experienced guides lead the way as you traverse wild bushland, winding coastal tracks and secluded beaches leading to unbelievable ocean and mountain views.
Trek through coastal vegetation to Mt Brown and look out over the calm waters of Crescent Bay. Experience the charms of Tasman National Park as you take on the Cape Raoul walk, a comfortable return hike with wonderful views of the Tasman Peninsula and Bruny Island. Then, discover Fortescue Bay and Cape Hauy on a steep climb that will reward you with panoramic vistas across to Maria Island and Cape Pillar. All the while, stay in comfortable lodge accommodation and refuel for days of walking with all meals provided throughout your tour.
Your tour includes:
Two nights of accommodation at Three Capes and Tasman Lodge, Port Arthur
All meals throughout your tour (two breakfasts, three lunches and two dinners)
Daily guided walks including Cape Hauy, Fortescue Bay and Cape Raoul in Tasman National Park
The services of expert guides throughout
Roundtrip transfers from the centre of Hobart
All national park entry fees
Your journey takes you to: Hobart — Crescent Bay and Mt Brown — Cape Raoul — Fortescue Bay and Cape Hauy — Hobart.
Book with 100% Confidence: Right up until 60 days before departure you can enjoy one free date change, or cancel and get a 100% credit to use at Luxury Escapes for any other Limited Time Lux Exclusive accommodation, tour or cruise offer. Excludes flights, see the Fine Print for details.
Furthermore, if you are unable to travel on your tour as a result of Government travel restrictions, even right up to the day of departure, Luxury Escapes will assist you with a date change. We can also provide you with a credit or refund for your booking (less any non-recoverable costs). See below for full terms and conditions.
Time limited offer
3 Days from
Twin Share
Valued up to A$1,525
Interest-free payment options available 

holiday Options
TWIN SHARE – WEEKDAY DEPARTURE
3 Days from
Valued up to A$1,525
Inclusion highlights:
Packages valid for one person (twin share) – you MUST purchase TWO packages
Includes private room and bath throughout tour with king or queen bed, or two bed options
Two nights of accommodation at Three Capes and Tasman Lodge, Port Arthur
All meals throughout your tour (two breakfasts, three lunches and two dinners)
Daily guided walks including Cape Hauy, Fortescue Bay and Cape Raoul in Tasman National Park
The services of expert guides throughout
Roundtrip transfers from the centre of Hobart
All national park entry fees
TWIN SHARE – SUNDAY DEPARTURE
3 Days from
Valued up to A$1,625
Inclusion highlights:
Packages valid for one person (twin share) – you MUST purchase TWO packages
Includes private room and bath throughout tour with king or queen bed, or two bed options
Two nights of accommodation at Three Capes and Tasman Lodge, Port Arthur
All meals throughout your tour (two breakfasts, three lunches and two dinners)
Daily guided walks including Cape Hauy, Fortescue Bay and Cape Raoul in Tasman National Park
The services of expert guides throughout
Roundtrip transfers from the centre of Hobart
All national park entry fees
SOLO TRAVELLER – WEEKDAY DEPARTURE
3 Days from
Valued up to A$1,845
Inclusion highlights:
Inclusions valid for one person (solo traveller)
Includes private room and bath throughout tour with king or queen bed
Two nights of accommodation at Three Capes and Tasman Lodge, Port Arthur
All meals throughout your tour (two breakfasts, three lunches and two dinners)
Daily guided walks including Cape Hauy, Fortescue Bay and Cape Raoul in Tasman National Park
The services of expert guides throughout
Roundtrip transfers from the centre of Hobart
All national park entry fees
SOLO TRAVELLER – SUNDAY DEPARTURE
3 Days from
Valued up to A$1,945
Inclusion highlights:
Inclusions valid for one person (solo traveller)
Includes private room and bath throughout tour with king or queen bed
Two nights of accommodation at Three Capes and Tasman Lodge, Port Arthur
All meals throughout your tour (two breakfasts, three lunches and two dinners)
Daily guided walks including Cape Hauy, Fortescue Bay and Cape Raoul in Tasman National Park
The services of expert guides throughout
Roundtrip transfers from the centre of Hobart
All national park entry fees