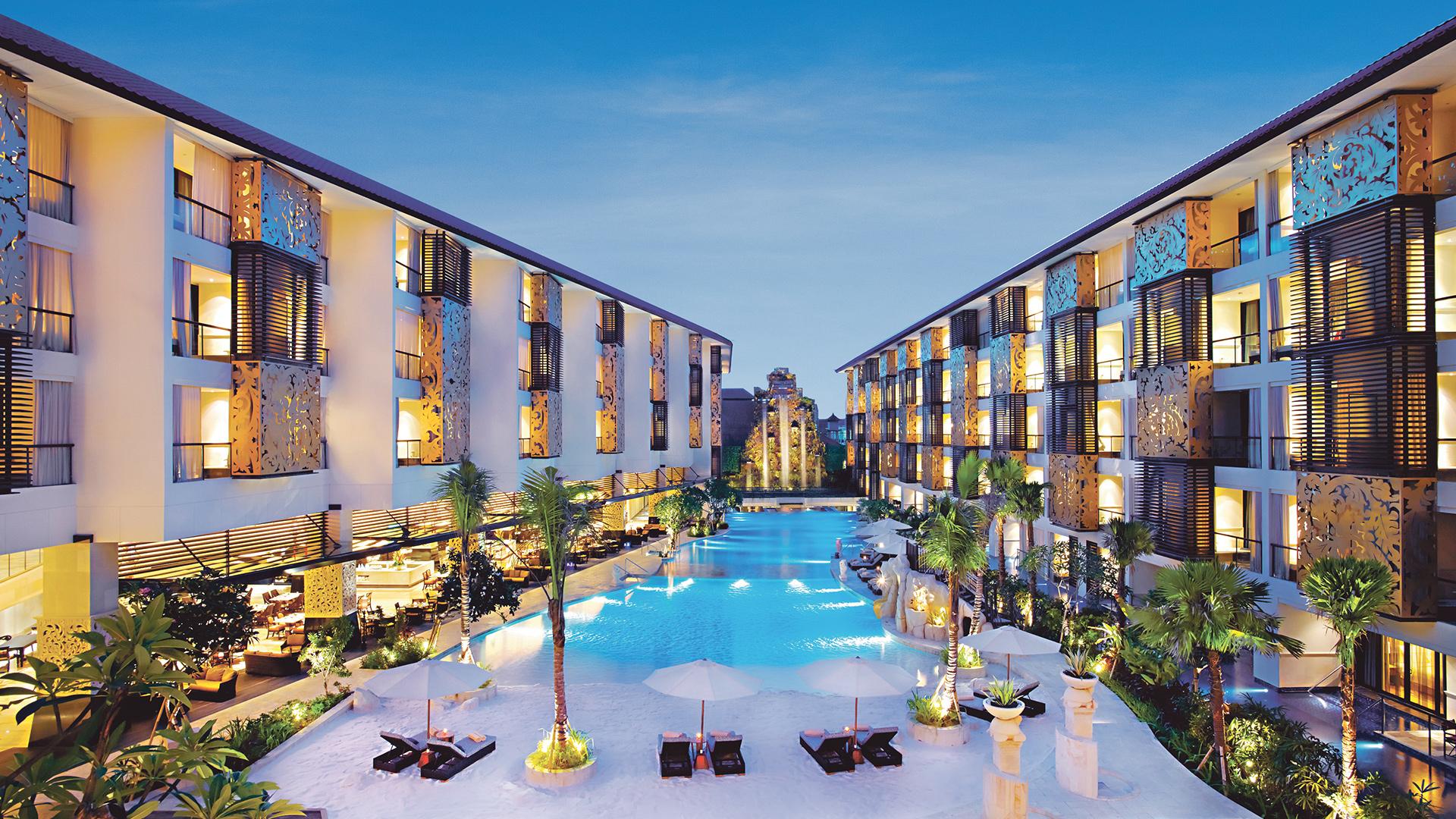 Award-Winning Bali Stay with Daily Cocktails
One of Bali's favourite resorts is back! You are invited to holiday like a celebrity at The Trans Resort Bali with daily buffet breakfast, daily cocktails, a sumptuous Friday-night buffet dinner, a Sunday yum cha lunch, two 30-minute massages per adult, a convenient airport pick-up from Denpasar Airport, special savings around Seminyak, including daily tacos at Mexicola and a complimentary pizza at Da Maria Italian Restaurant, and much more.
6, 8 or 10 Nights From
Valued up to A$5,960

Book now. Pay Later.
holiday Options
AWARD-WINNING BALI ESCAPE
Premier Room
Inclusion highlights:
Inclusions valid for two adults
Up to two children aged five and under stay free with airport pick-up and breakfast OR one child aged 11 and under stays free on existing bedding (See Fine Print for details)
Daily buffet breakfast, a Friday night buffet and all-you-can-eat Sunday Yum Cha at The Restaurant
A nightly cocktail each at any onsite restaurant or bar
Two 30-minute massages each at the Trans Spa
A private airport pick-up from Denpasar Airport
VIP UPGRADE
Premier Club Room
Inclusion highlights:
Inclusions valid for two adults
Up to two children aged five and under stay free with airport pick-up and breakfast OR one child aged 11 and under stays free on existing bedding (See Fine Print for details)
Daily Club Lounge access with afternoon tea from 2pm – 5pm and evening cocktails from 5:30pm to 7:30pm
Daily buffet breakfast, a Friday night buffet and all-you-can-eat Sunday Yum Cha at The Restaurant
Two 30-minute massages each at the Trans Spa
A private airport pick-up from Denpasar Airport
AWARD-WINNING BALI ESCAPE
Premier Room
Inclusion highlights:
Inclusions valid for two adults
Up to two children aged five and under stay free with airport pick-up and breakfast OR one child aged 11 and under stays free on existing bedding (See Fine Print for details)
Daily buffet breakfast, a Friday night buffet and all-you-can-eat Sunday Yum Cha at The Restaurant
A nightly cocktail each at any onsite restaurant or bar
Two 30-minute massages each at the Trans Spa
A private airport pick-up from Denpasar Airport
VIP UPGRADE
Premier Club Room
Inclusion highlights:
Inclusions valid for two adults
One child aged 11 and under stays free (See the 'Fine Print' for details)
Daily Club Lounge access with afternoon tea from 2pm – 5pm and evening cocktails from 5:30pm to 7:30pm
Daily buffet breakfast, a Friday night buffet and all-you-can-eat Sunday Yum Cha at The Restaurant
Two 30-minute massages each at the Trans Spa
A private airport pick-up from Denpasar Airport
POOL OASIS UPGRADE
Private Pool Villa
Inclusion highlights:
Inclusions valid for two adults
One child aged 11 and under stays free (See the 'Fine Print' for details)
Daily Club Lounge access with afternoon tea from 2pm – 5pm and evening cocktails from 5:30pm to 7:30pm
Daily buffet breakfast, a Friday night buffet and all-you-can-eat Sunday Yum Cha at The Restaurant
Two 30-minute massages each at the Trans Spa
A private airport pick-up from Denpasar Airport
POOL OASIS UPGRADE
Private Pool Villa
Inclusion highlights:
Inclusions valid for two adults
One child aged 11 and under stays free (See the 'Fine Print' for details)
Daily Club Lounge access with afternoon tea from 2pm – 5pm and evening cocktails from 5:30pm to 7:30pm
Daily buffet breakfast, a Friday night buffet and all-you-can-eat Sunday Yum Cha at The Restaurant
Two 30-minute massages each at the Trans Spa
A private airport pick-up from Denpasar Airport