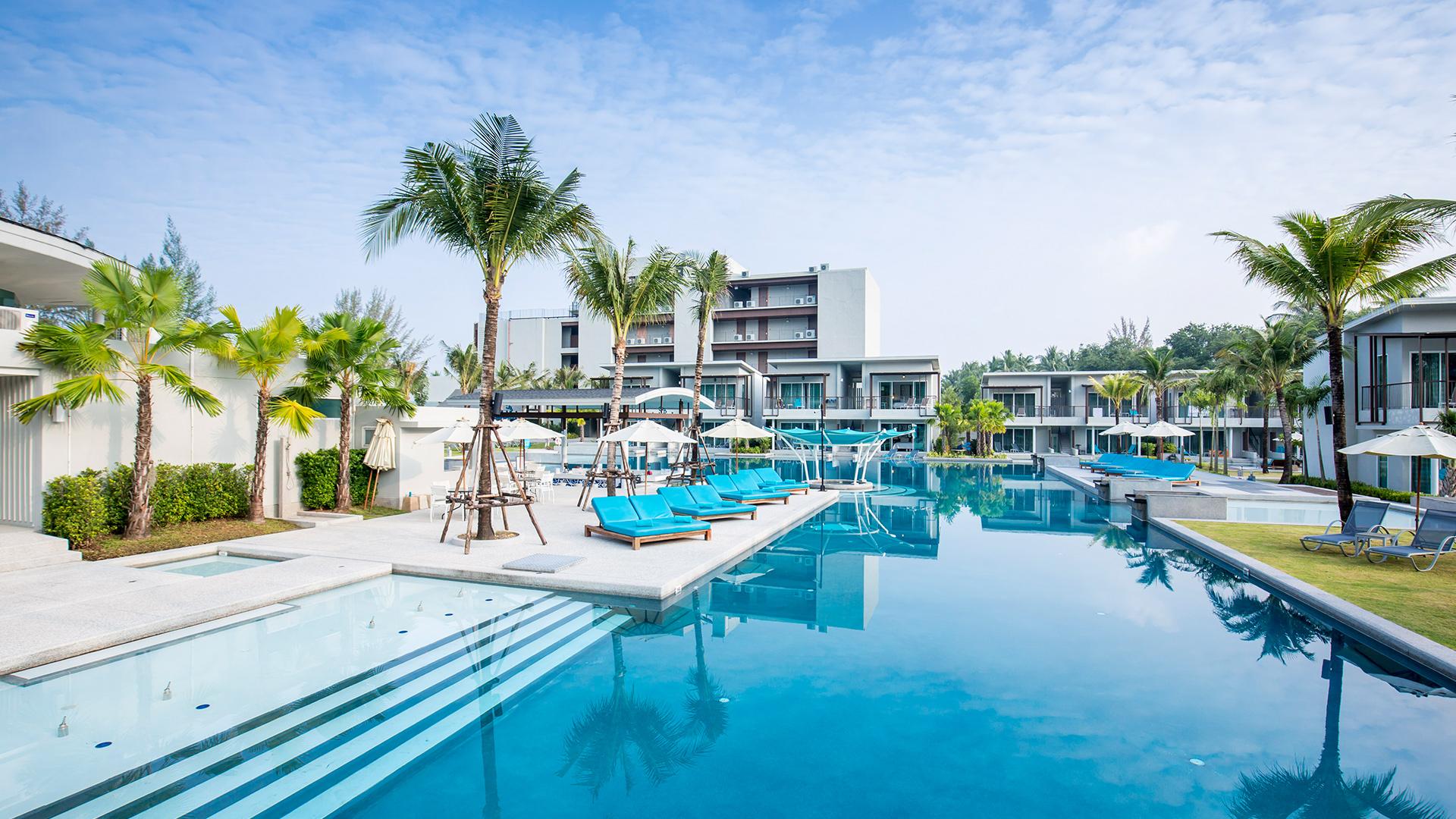 Adults-only Khao Lak Escape with Daily Breakfast, Cocktails and Massages
Splash in over 3,000 square metres of perfect turquoise pool when you stay at The Waters Khao Lak, part of the iconic Katathani Collection. Embrace tropical serenity at this adults-only resort located in Thailand's popular Khao Lak area and boasting seven, sparkling pools surrounded by swaying palm trees. Your sun-kissed escape includes daily buffet breakfast, two set lunches or dinners during your stay, a daily 30-minute massage per room, daily cocktails, access to The Sands Beach Club with complimentary transfers as well as private one-way airport transfer from Phuket International Airport.
7, 9 or 11 Nights From
Valued up to A$2,047

Book now. Pay Later.
holiday Options
Inclusion highlights:
Inclusions valid for two adults
Daily American buffet breakfast at Amici restaurant
Two set lunches or dinners during your stay at Amici restaurant
Daily cocktail each (one cocktail per person per day)
A daily 30-minute massage per room to share
Four day passes to share to The Sands Beach Club with complimentary transfers
One-way private airport pick up or drop off from Phuket International Airport transfer
Check-in: 2pm; Check-out: 12pm
VIP UPGRADE
Upper Pool Access Room
Inclusion highlights:
Inclusions valid for two adults
Daily American buffet breakfast at Amici restaurant
Two set lunches or dinners during your stay at Amici restaurant
Daily cocktail each (one cocktail per person per day)
A daily 30-minute massage per room to share
Four day passes to share to The Sands Beach Club with complimentary transfers
One-way private airport pick up or drop off from Phuket International Airport transfer
Check-in: 2pm; Check-out: 12pm
CELEBRITY UPGRADE
Waters Pool Access Room
Inclusion highlights:
Inclusions valid for two adults
Daily American buffet breakfast at Amici restaurant
Two set lunches or dinners during your stay at Amici restaurant
Daily cocktail each (one cocktail per person per day)
A daily 30-minute massage per room to share
Four day passes to share to The Sands Beach Club with complimentary transfers
One-way private airport pick up or drop off from Phuket International Airport transfer
Check-in: 2pm; Check-out: 12pm
Inclusion highlights:
Inclusions valid for two adults
Daily American buffet breakfast at Amici restaurant
Two set lunches or dinners during your stay at Amici restaurant
Daily cocktail each (one cocktail per person per day)
A daily 30-minute massage per room to share
Four day passes to share to The Sands Beach Club with complimentary transfers
One-way private airport pick up or drop off from Phuket International Airport transfer
Check-in: 2pm; Check-out: 12pm
VIP UPGRADE
Upper Pool Access Room
Inclusion highlights:
Inclusions valid for two adults
Daily American buffet breakfast at Amici restaurant
Two set lunches or dinners during your stay at Amici restaurant
Daily cocktail each (one cocktail per person per day)
A daily 30-minute massage per room to share
Four day passes to share to The Sands Beach Club with complimentary transfers
One-way private airport pick up or drop off from Phuket International Airport transfer
Check-in: 2pm; Check-out: 12pm
CELEBRITY UPGRADE
Waters Pool Access Room
Inclusion highlights:
Inclusions valid for two adults
Daily American buffet breakfast at Amici restaurant
Two set lunches or dinners during your stay at Amici restaurant
Daily cocktail each (one cocktail per person per day)
A daily 30-minute massage per room to share
Four day passes to share to The Sands Beach Club with complimentary transfers
One-way private airport pick up or drop off from Phuket International Airport transfer
Check-in: 2pm; Check-out: 12pm
Inclusion highlights:
Inclusions valid for two adults
Daily American buffet breakfast at Amici restaurant
Two set lunches or dinners during your stay at Amici restaurant
Daily cocktail each (one cocktail per person per day)
A daily 30-minute massage per room to share
Four day passes to share to The Sands Beach Club with complimentary transfers
One-way private airport pick up or drop off from Phuket International Airport transfer
Check-in: 2pm; Check-out: 12pm
VIP UPGRADE
Upper Pool Access Room
Inclusion highlights:
Inclusions valid for two adults
Daily American buffet breakfast at Amici restaurant
Two set lunches or dinners during your stay at Amici restaurant
Daily cocktail each (one cocktail per person per day)
A daily 30-minute massage per room to share
Four day passes to share to The Sands Beach Club with complimentary transfers
One-way private airport pick up or drop off from Phuket International Airport transfer
Check-in: 2pm; Check-out: 12pm
CELEBRITY UPGRADE
Waters Pool Access Room
Inclusion highlights:
Inclusions valid for two adults
Daily American buffet breakfast at Amici restaurant
Two set lunches or dinners during your stay at Amici restaurant
Daily cocktail each (one cocktail per person per day)
A daily 30-minute massage per room to share
Four day passes to share to The Sands Beach Club with complimentary transfers
One-way private airport pick up or drop off from Phuket International Airport transfer
Check-in: 2pm; Check-out: 12pm