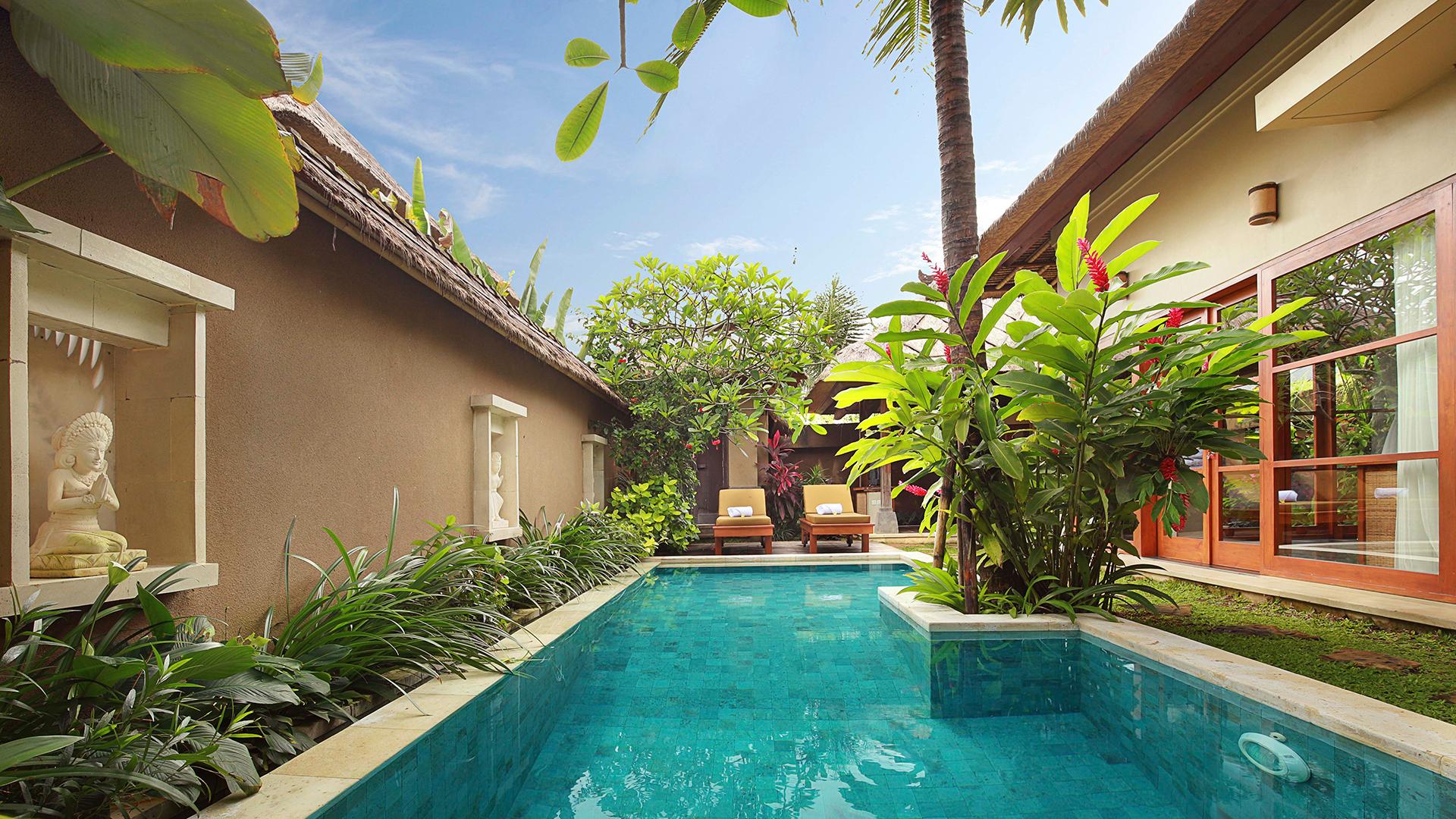 Ubud Villa Escape with Generous Dining, Wellness and Cultural Inclusions
Your own private pool villa oasis, daily à la carte breakfast, daily afternoon tea, daily two-course lunches or dinners, a one-time floating breakfast, a 60-minute Balinese massage each with a relaxing 15-minute foot ritual massage and daily yoga classes targeting your body and mind means Ubud Nyuh Bali Resort and Spa has Zen on speed dial. Prepare to be nurtured, inspired and re-invigorated like an A-lister at this luxury wellness escape nestled in the heart of Ubud's serene jungles and rice paddies.
3, 5 or 7 Nights From
Valued up to A$1,655

Book now. Pay Later.
holiday Options
UBUD WELLNESS RETREAT
One-Bedroom Deluxe Pool Villa
Inclusion highlights:
Inclusions valid for two adults
Daily à la carte breakfast served at the Balinese-style Lumbini Restaurant
One-time upgrade to a floating breakfast served in your villa's private pool
Daily two-course set menu lunch or dinner served at Lumbini Restaurant
Daily afternoon tea at Lumbini Restaurant served with a daily-changing menu of three traditional, homemade snacks
A 60-minute Balinese massage each and a relaxing 15-minute foot ritual massage
Daily morning yoga with a professional instructor between 7am and 8am
Daily authentic Balinese class, as per the resort's schedule
Private one-way airport transfer to or from Ngurah Rai International Airport (DPS)
Daily herbal detox drink each
Complimentary shuttle service to Ubud centre, as per the resort's schedule
Four daily bottles of mineral water to share
Complimentary bike hire
Guaranteed late 1pm checkout
Check-in: 2pm
HONEYMOON UPGRADE
Honeymoon Suite Pool Villa
Inclusion highlights:
Inclusions valid for two adults
Upgraded huge 250sqm suite with a romantic, over-sized two-person Jacuzzi
Romantic set-up in-room on arrival
Daily à la carte breakfast served at the Balinese-style Lumbini Restaurant
One-time upgrade to a floating breakfast served in your villa's private pool
Daily two-course set menu lunch or dinner served at Lumbini Restaurant
Daily afternoon tea at Lumbini Restaurant served with a daily-changing menu of three traditional, homemade snacks
A 60-minute Balinese massage each and a relaxing 15-minute foot ritual massage
Daily morning yoga with a professional instructor between 7am and 8am
Daily authentic Balinese class, as per the resort's schedule
Private one-way airport transfer to or from Ngurah Rai International Airport (DPS)
Daily herbal detox drink each
Complimentary shuttle service to Ubud centre, as per the resort's schedule
Four daily bottles of mineral water to share
Complimentary bike hire
Guaranteed late 1pm checkout
Check-in: 2pm
CELEBRITY GROUP UPGRADE
Two-Bedroom Deluxe Pool Villa
Inclusion highlights:
Inclusions valid for four adults
Upgraded massive 300sqm suite boasting two bathrooms, two bedrooms and an outdoor kitchenette, dining and living area
Daily à la carte breakfast served at the Balinese-style Lumbini Restaurant
One-time upgrade to a floating breakfast served in your villa's private pool
Daily two-course set menu lunch or dinner served at Lumbini Restaurant
Daily afternoon tea at Lumbini Restaurant served with a daily-changing menu of three traditional, homemade snacks
A 60-minute Balinese massage each and a relaxing 15-minute foot ritual massage
Daily morning yoga with a professional instructor between 7am and 8am
Daily authentic Balinese class, as per the resort's schedule
Private one-way airport transfer to or from Ngurah Rai International Airport (DPS)
Daily herbal detox drink each
Complimentary shuttle service to Ubud centre, as per the resort's schedule
Four daily bottles of mineral water to share
Complimentary bike hire
Guaranteed late 1pm checkout
Check-in: 2pm
UBUD WELLNESS RETREAT
One-Bedroom Deluxe Pool Villa
Inclusion highlights:
Inclusions valid for two adults
Daily à la carte breakfast served at the Balinese-style Lumbini Restaurant
One-time upgrade to a floating breakfast served in your villa's private pool
Daily two-course set menu lunch or dinner served at Lumbini Restaurant
Daily afternoon tea at Lumbini Restaurant served with a daily-changing menu of three traditional, homemade snacks
A 60-minute Balinese massage each and a relaxing 15-minute foot ritual massage
Daily morning yoga with a professional instructor between 7am and 8am
Daily authentic Balinese class, as per the resort's schedule
Private one-way airport transfer to or from Ngurah Rai International Airport (DPS)
Daily herbal detox drink each
Complimentary shuttle service to Ubud centre, as per the resort's schedule
Four daily bottles of mineral water to share
Complimentary bike hire
Guaranteed late 1pm checkout
Check-in: 2pm
HONEYMOON UPGRADE
Honeymoon Suite Pool Villa
Inclusion highlights:
Inclusions valid for two adults
Upgraded huge 250sqm suite with a romantic, over-sized two-person Jacuzzi
Romantic set-up in-room on arrival
Daily à la carte breakfast served at the Balinese-style Lumbini Restaurant
One-time upgrade to a floating breakfast served in your villa's private pool
Daily two-course set menu lunch or dinner served at Lumbini Restaurant
Daily afternoon tea at Lumbini Restaurant served with a daily-changing menu of three traditional, homemade snacks
A 60-minute Balinese massage each and a relaxing 15-minute foot ritual massage
Daily morning yoga with a professional instructor between 7am and 8am
Daily authentic Balinese class, as per the resort's schedule
Private one-way airport transfer to or from Ngurah Rai International Airport (DPS)
Daily herbal detox drink each
Complimentary shuttle service to Ubud centre, as per the resort's schedule
Four daily bottles of mineral water to share
Complimentary bike hire
Guaranteed late 1pm checkout
Check-in: 2pm
CELEBRITY GROUP UPGRADE
Two-Bedroom Deluxe Pool Villa
Inclusion highlights:
Inclusions valid for four adults
Upgraded massive 300sqm suite boasting two bathrooms, two bedrooms and an outdoor kitchenette, dining and living area
Daily à la carte breakfast served at the Balinese-style Lumbini Restaurant
One-time upgrade to a floating breakfast served in your villa's private pool
Daily two-course set menu lunch or dinner served at Lumbini Restaurant
Daily afternoon tea at Lumbini Restaurant served with a daily-changing menu of three traditional, homemade snacks
A 60-minute Balinese massage each and a relaxing 15-minute foot ritual massage
Daily morning yoga with a professional instructor between 7am and 8am
Daily authentic Balinese class, as per the resort's schedule
Private one-way airport transfer from or to Ngurah Rai International Airport (DPS)
Daily herbal detox drink each
Complimentary shuttle service to Ubud centre, as per the resort's schedule
Four daily bottles of mineral water to share
Complimentary bike hire
Guaranteed late 1pm checkout
Check-in: 2pm
UBUD WELLNESS RETREAT
One-Bedroom Deluxe Pool Villa
Inclusion highlights:
Inclusions valid for two adults
Two 60-minute Balinese massages each and a relaxing 15-minute foot ritual massage
Daily à la carte breakfast served at the Balinese-style Lumbini Restaurant
One-time upgrade to a floating breakfast served in your villa's private pool
Daily two-course set menu lunch or dinner served at Lumbini Restaurant
Daily afternoon tea at Lumbini Restaurant served with a daily-changing menu of three traditional, homemade snacks
Daily morning yoga with a professional instructor between 7am and 8am
Daily authentic Balinese class, as per the resort's schedule
Private one-way airport transfer to or from Ngurah Rai International Airport (DPS)
Daily herbal detox drink each
Complimentary shuttle service to Ubud centre, as per the resort's schedule
Four daily bottles of mineral water to share
Complimentary bike hire
Guaranteed late 1pm checkout
Check-in: 2pm
HONEYMOON UPGRADE
Honeymoon Suite Pool Villa
Inclusion highlights:
Inclusions valid for two adults
Upgraded huge 250sqm suite with a romantic, over-sized two-person Jacuzzi
Two 60-minute Balinese massages each and a relaxing 15-minute foot ritual massage
Romantic set-up in-room on arrival
Daily à la carte breakfast served at the Balinese-style Lumbini Restaurant
One-time upgrade to a floating breakfast served in your villa's private pool
Daily two-course set menu lunch or dinner served at Lumbini Restaurant
Daily afternoon tea at Lumbini Restaurant served with a daily-changing menu of three traditional, homemade snacks
Daily morning yoga with a professional instructor between 7am and 8am
Daily authentic Balinese class, as per the resort's schedule
Private one-way airport transfer to or from Ngurah Rai International Airport (DPS)
Daily herbal detox drink each
Complimentary shuttle service to Ubud centre, as per the resort's schedule
Four daily bottles of mineral water to share
Complimentary bike hire
Guaranteed late 1pm checkout
Check-in: 2pm
CELEBRITY GROUP UPGRADE
Two-Bedroom Deluxe Pool Villa
Inclusion highlights:
Inclusions valid for four adults
Upgraded massive 300sqm suite boasting two bathrooms, two bedrooms and an outdoor kitchenette, dining and living area
Two 60-minute Balinese massages each and a relaxing 15-minute foot ritual massage
Daily à la carte breakfast served at the Balinese-style Lumbini Restaurant
One-time upgrade to a floating breakfast served in your villa's private pool
Daily two-course set menu lunch or dinner served at Lumbini Restaurant
Daily afternoon tea at Lumbini Restaurant served with a daily-changing menu of three traditional, homemade snacks
Daily morning yoga with a professional instructor between 7am and 8am
Daily authentic Balinese class, as per the resort's schedule
Private one-way airport transfer from or to Ngurah Rai International Airport (DPS)
Daily herbal detox drink each
Complimentary shuttle service to Ubud centre,as per the resort's schedule
Four daily bottles of mineral water to share
Complimentary bike hire
Guaranteed late 1pm checkout
Check-in: 2pm